Every retail professional wants to stay on top of his game. Constantly learning about shopper behavior is a must in this competitive industry. Shopper behavior and trends change at a rapid pace, making it hard for professionals to keep up with these changes.
While podcasts, webinars, and blog articles are great resources, books are and will always be one of the best ways to stay informed and learn more. In this article, we are focusing on the best shopper marketing books. We've selected the 10 best reads that every retail professional should have on their bookshelves (or Kindle library).
Top 10 Best Shopper Marketing Books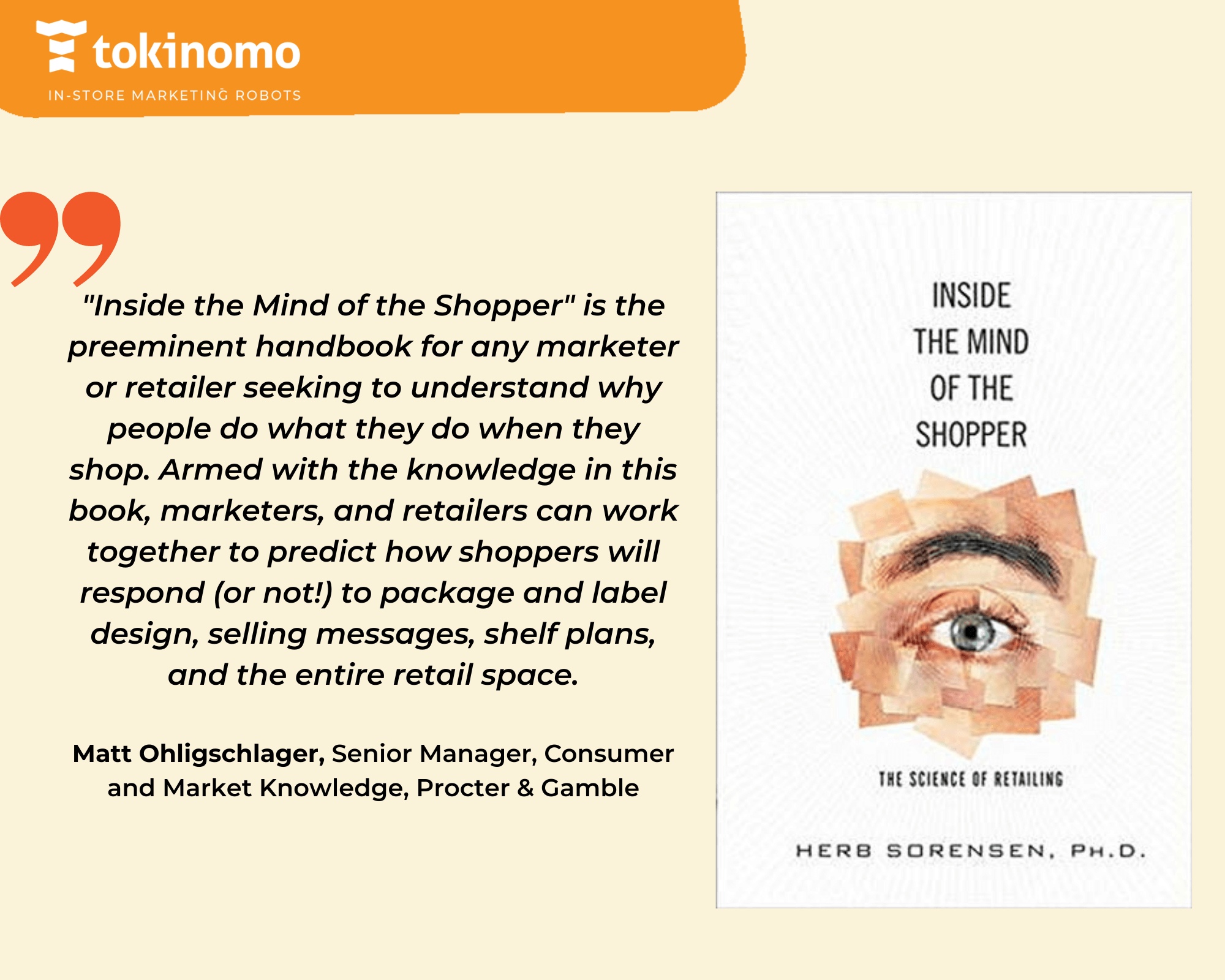 What makes shoppers tick? What happens inside the mind of the shopper when they step foot inside your store? In this magnificent book, you can learn more about shopper behavior. Discover how shoppers make purchasing decisions and how you can influence those decisions.
World-renowned retail consultant Dr. Herb Sorensen, Ph.D. shares insightful details on how the consumer's brain acts while shopping. Read the book to find the best tried and tested strategies for designing more effective stores and increasing sales.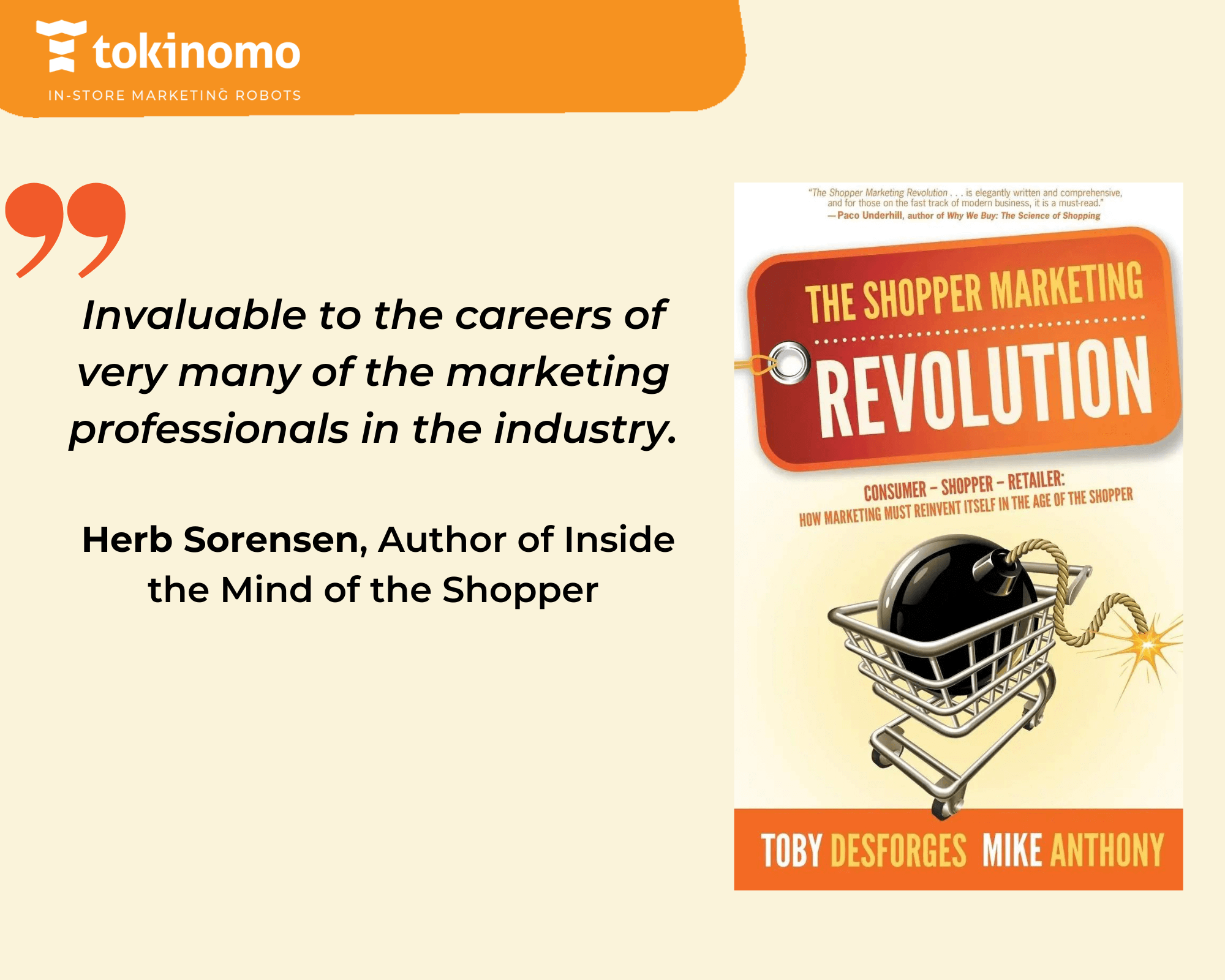 While it might be almost 10 years old, this book is still relevant. The Shopper Marketing Revolution analyzes why and how the retail industry needs to change. This is a must-read for all retailers and CPG manufacturers.
Mike Anthony and Toby Desforges share proven techniques that can help retail professionals revolutionize their businesses. The five-step Total Marketing model is introduced in this book. This approach creates coherent links between the end consumer and the in-store environment.
"The Shopper Marketing Revolution" is a practical guide to shopper marketing: from research to strategy to creating better execution. It introduces a revolutionary approach that integrates consumer marketing, shopper marketing, and sales. It's packed with practical advice, examples, and case studies. Shopper Insight guru Paco Underhill called it 'essential reading for the modern marketer'"

Mike Anthony, author of The Shopper Marketing Revolution: Consumer - Shopper - Retailer: How Marketing Must Reinvent Itself in the Age of the Shopper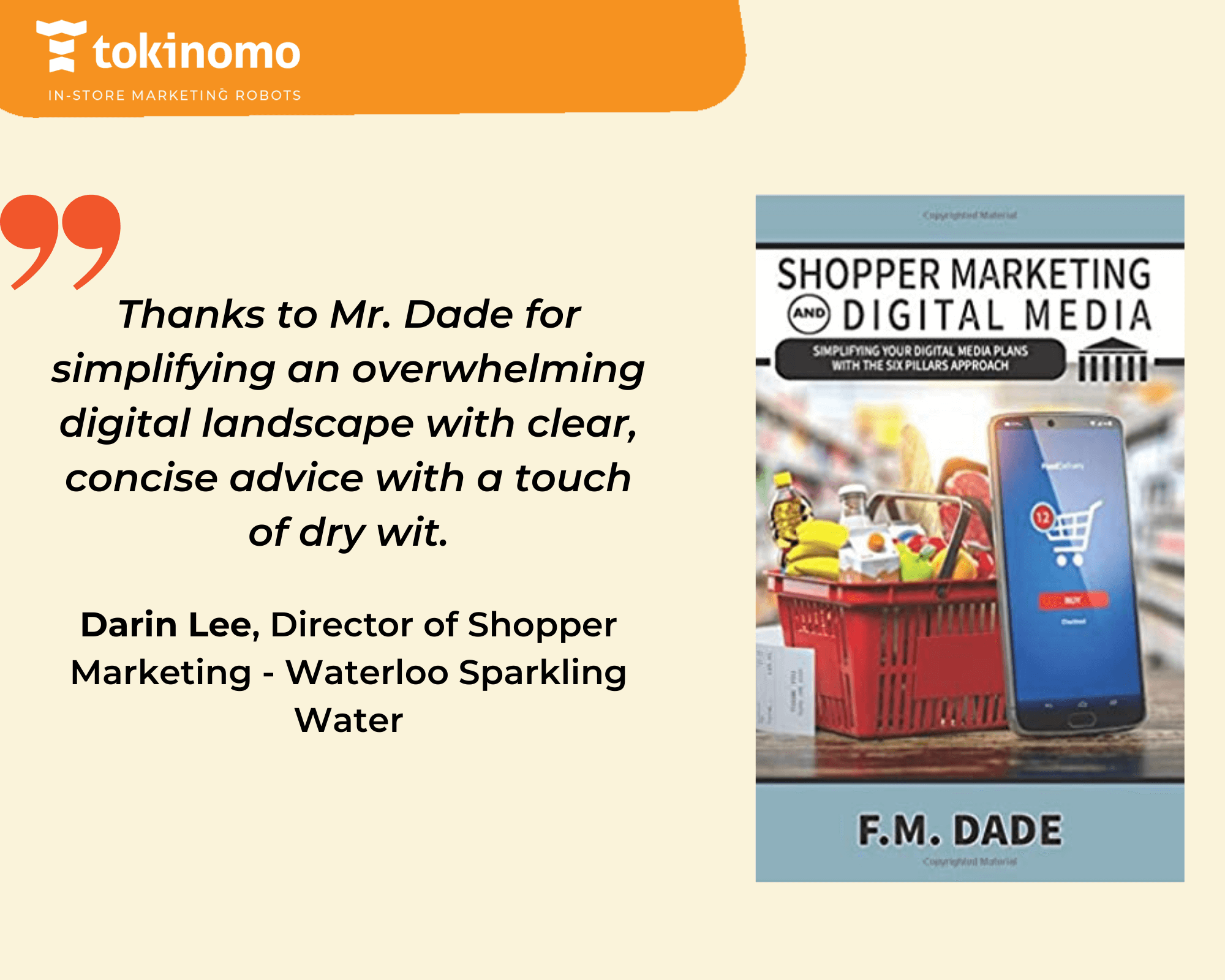 Navigating the ever-changing digital media landscape is a challenging task for any shopper marketer. In this book, professionals will find essential insights on how to simplify digital media plans and amplify shopper marketing campaigns.
F.M. Dade is an ad tech and shopper marketing veteran with over 20 years of experience. In Shopper Marketing and Digital Media, Dade shares the Six Pillars Approach, a tried and tested technique that will help shopper marketers.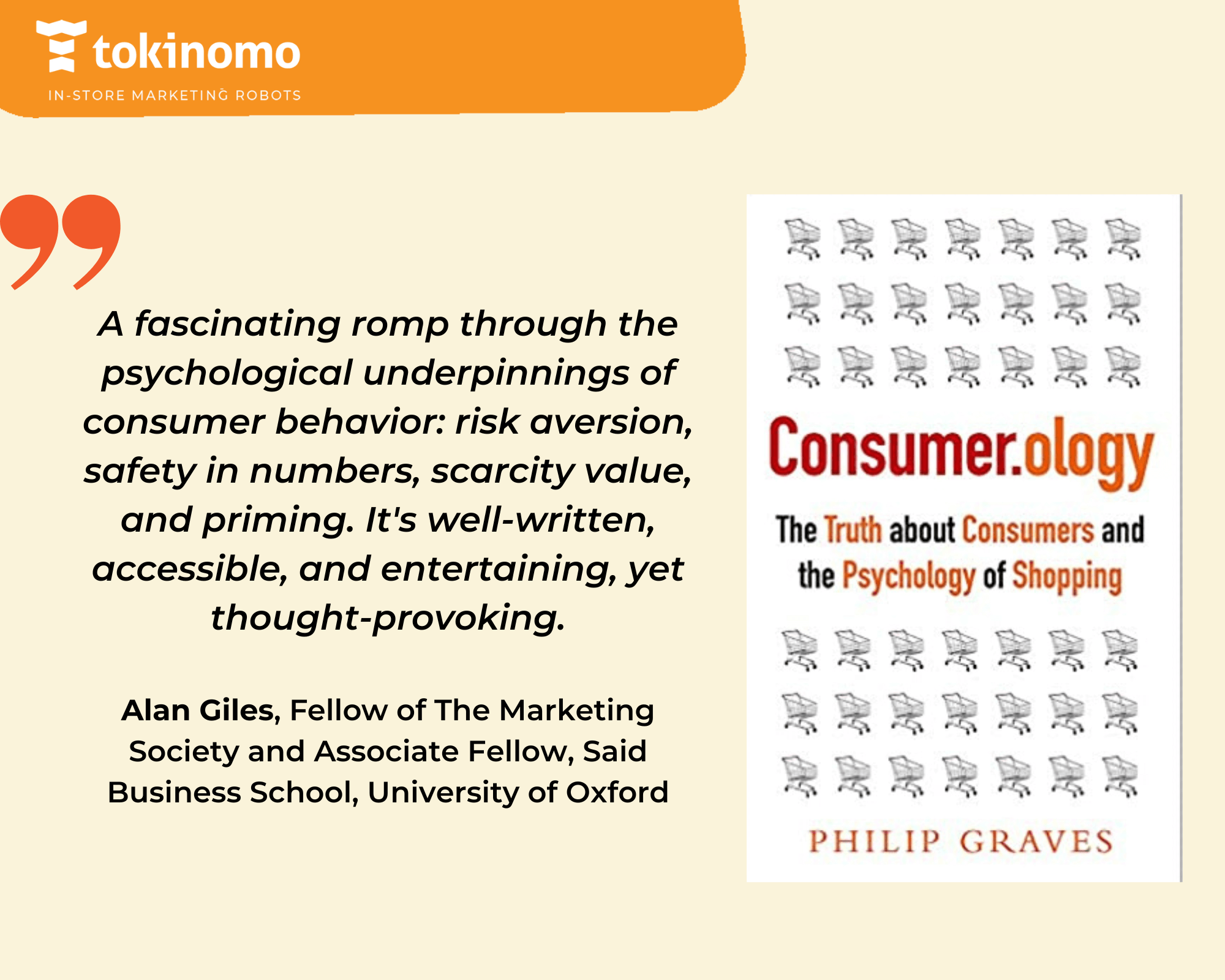 Consumer.ology is a book that reveals the emotional and psychological triggers of shoppers. Why do consumers choose a certain product? What influences our shopping decisions? These questions and many others can be answered by reading this insightful book.
Philip Graves offers a great perspective on how shoppers are influenced to make a purchase. Discover more about the psychology of shopping in this amazing read.
"Consumer.ology explores the psychology that drives consumer behavior. It highlights the folly of expecting consumers to understand themselves and explains why behavioral techniques are essential if you want a deeper understanding of shoppers."

Philip Graves, Author of Consumer.ology: The Truth about Consumers and the Psychology of Shopping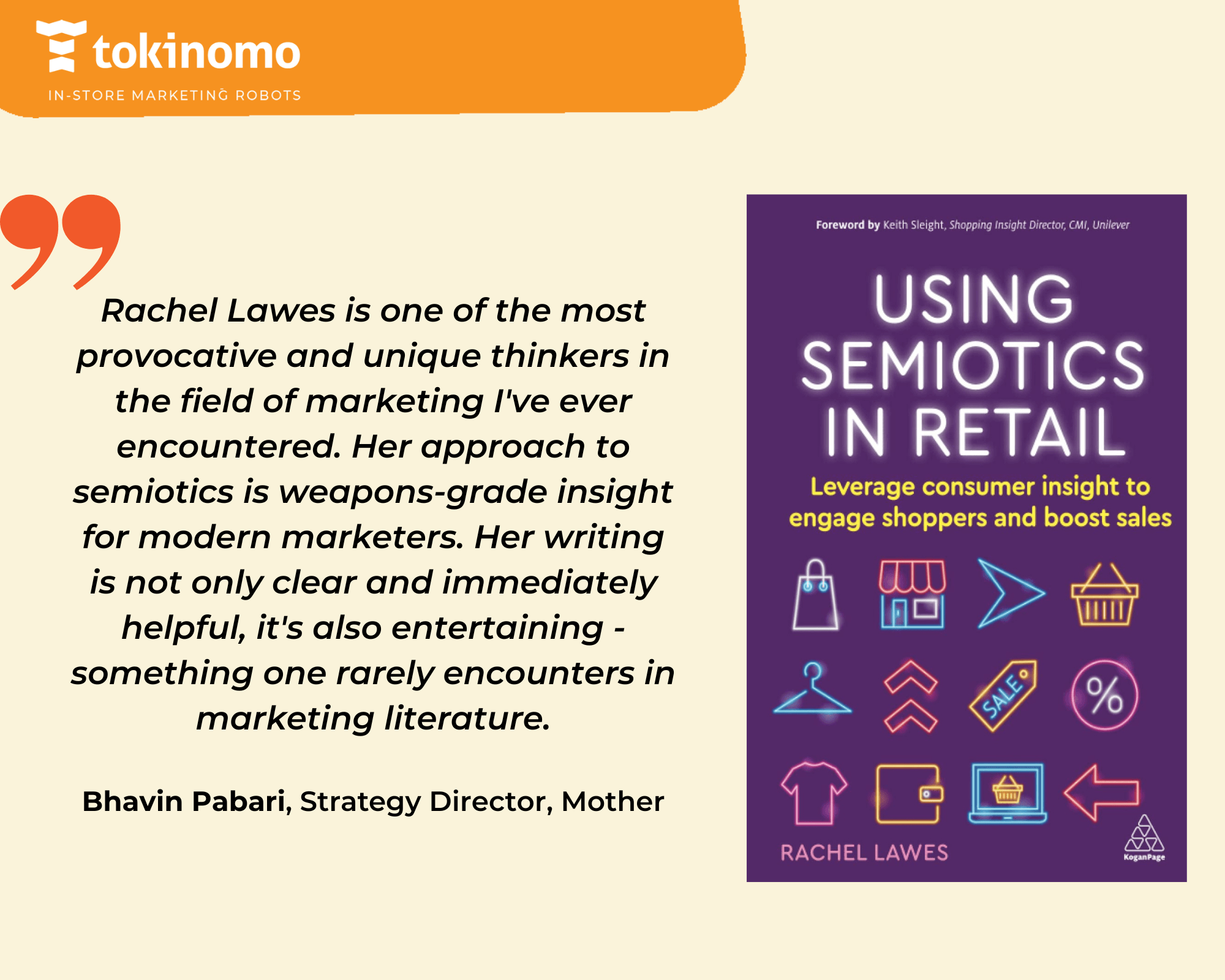 Retail is a competitive industry and that's why it is important to understand the needs of your customers and provide an amazing experience. With over 20 years of experience in global marketing, Rachel Lawes shows retailers how to improve their marketing tactics.
Discover game-changing insights in competitive categories such as fashion and FMCG. Learn how to engage shoppers and increase sales with the help of online resources that this book contains. The templates and interactive exercises will help you take it from information to action.
"The single best expression of WHY people should read this book came shortly after its publication, when Keith Sleight, Global Director of Shopping Insights at Unilever, got up on stage with me at the Retail Week Live conference in London, to talk about the book. In a nutshell, he said that I single-handedly doubled the effectiveness of a proprietary app that Unilever developed, called Shopper Eyes. Keith Sleight mentioned: "Effectiveness is measured in sales uplift. Lawes semiotics near enough doubled the sales uplift that the app produces.""

Dr. Rachel Lawes, Author of Using Semiotics in Retail: Leverage Consumer Insight to Engage Shoppers and Boost Sales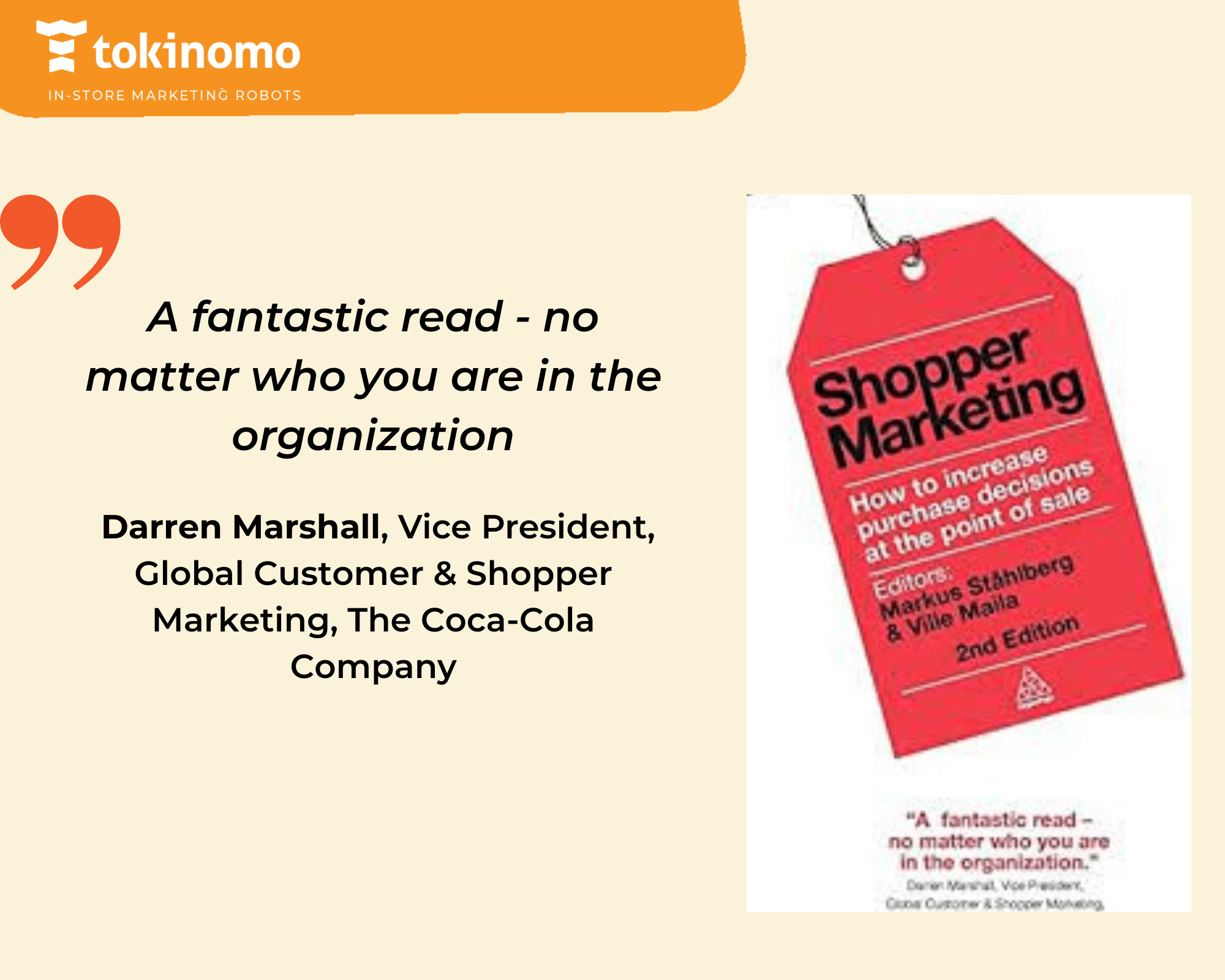 Another oldie but goldie. First published back in 2009, Shopper Marketing: How to Increase Purchase Decisions at the Point of Sale highlights the power of this new form of marketing. By reading this book you will learn how marketers can influence the purchase decision right at the point of sale.
Markus Ståhlberg and Ville Maila did a great job at providing practical, actionable advice that every shopper marketer should take into consideration. This book also contains tips and tricks from 35 contributors from top companies.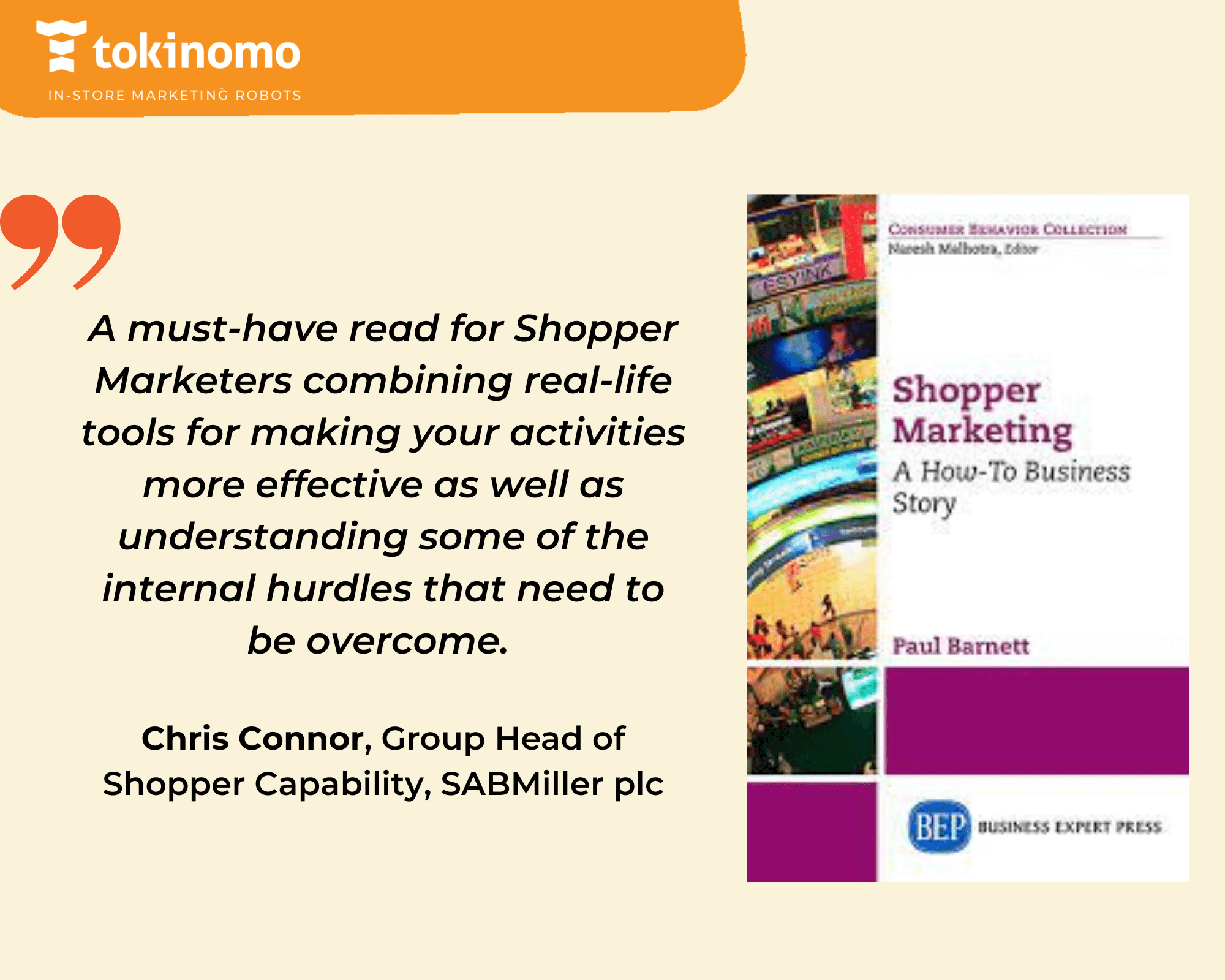 In this great read, you will discover the power of shopper marketing and how it can grow brand equity and sales. Paul Bernett tells the story of both physical and digital shopper marketing. In the first part of each chapter, the author runs a story and in the last part of the chapter, you will find real-world scenarios for a more practical perspective.
Read Shopper Marketing: A How-To Business Story if you want to uncover multiple actionable case studies. This is another must-read for every shopper marketer who wants to win over more customers.
"I hope it provides practical advice to help people start winning more shoppers straight away."

Paul Bernett, Author of Shopper Marketing: A How-To Business Story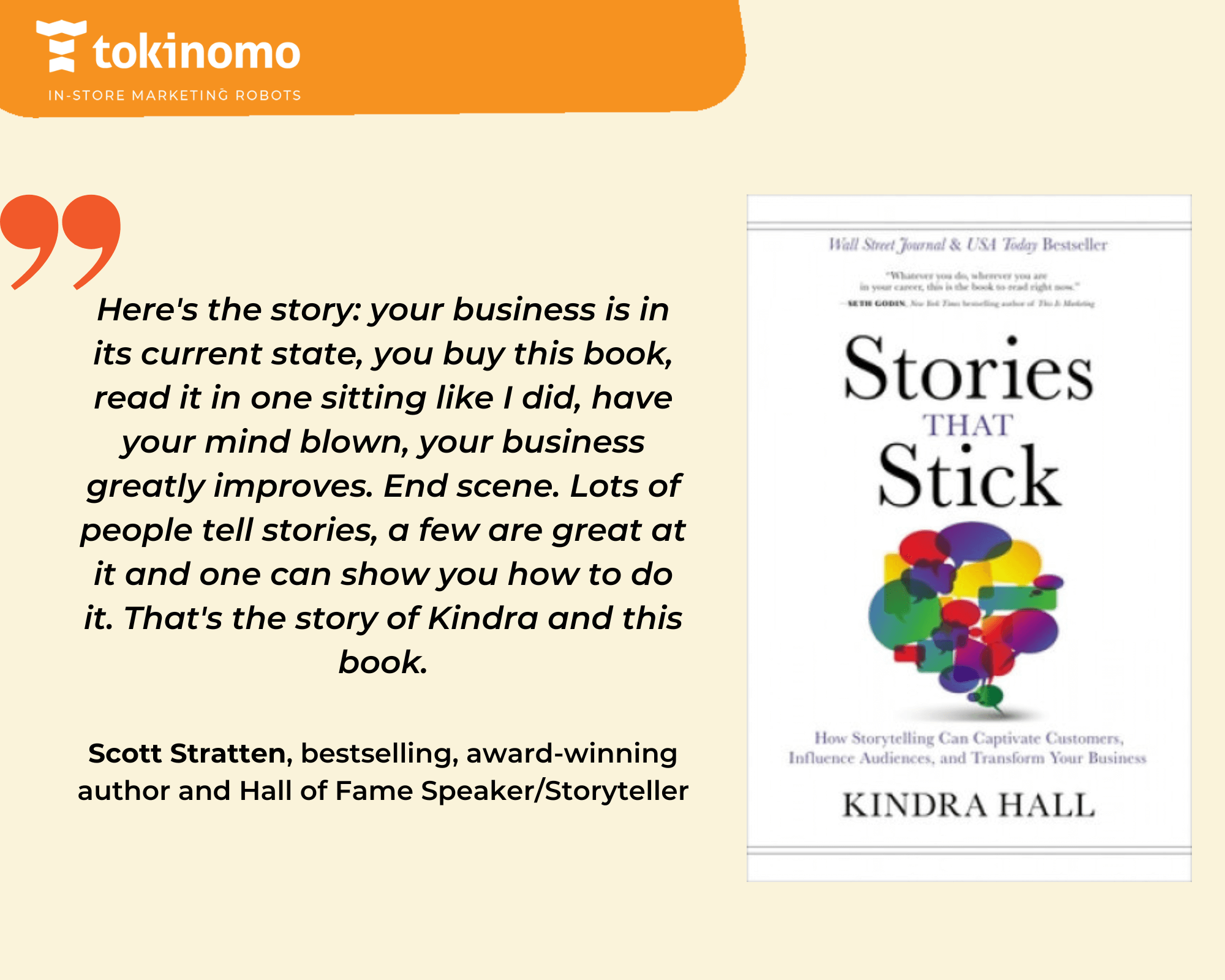 While this is not a book that focuses specifically on shopper marketing, it is definitely a must-read for every retailer and marketing professional. Storytelling in retail is a key element that can differentiate brands and make them top of mind for shoppers.
Shoppers buy guided by their emotions and stories manage to trigger our emotions. In this wonderful read, award-winning professional storyteller Kindra Hall shares the essential elements of storytelling. This book allows you to understand and capture the power of storytelling.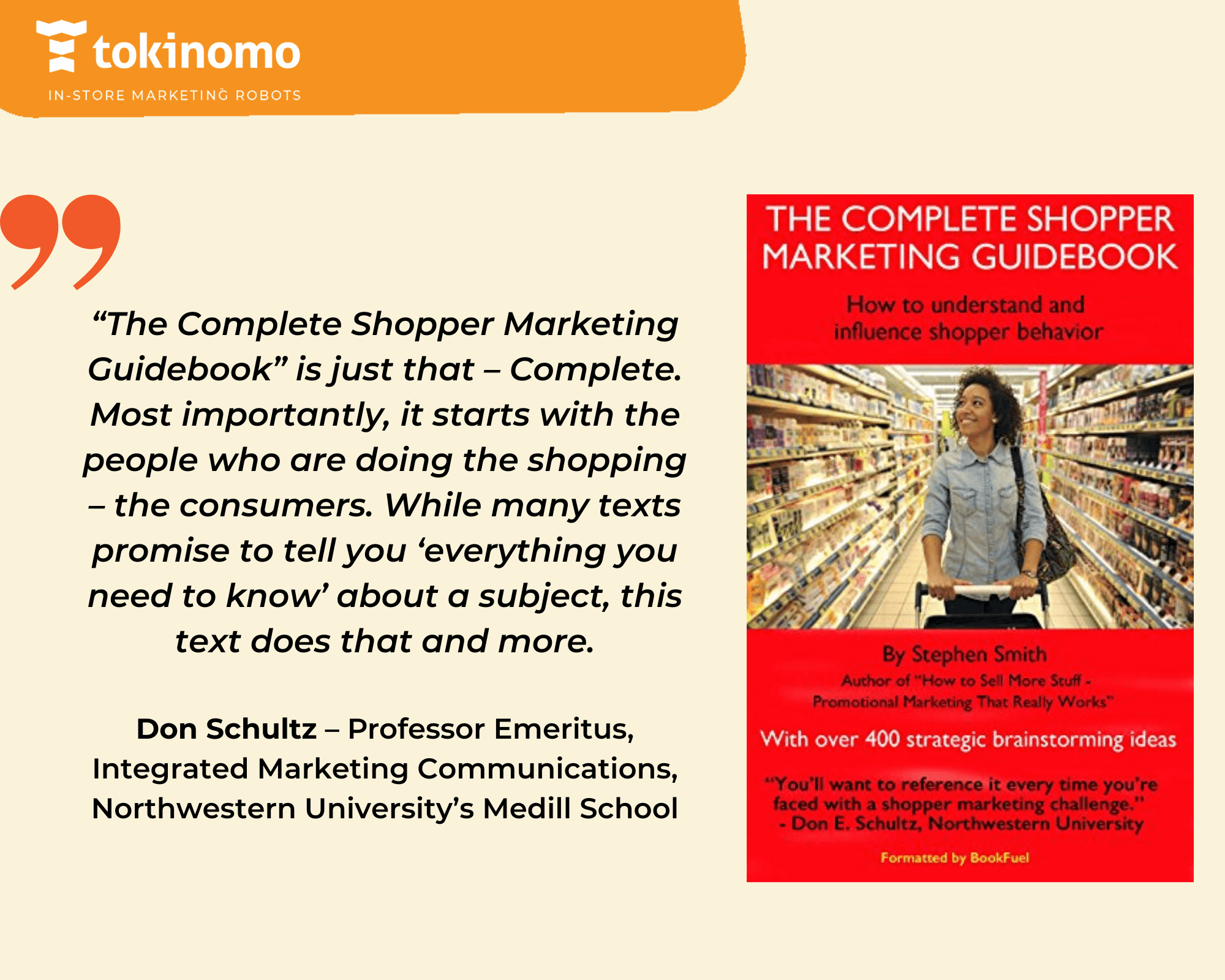 Want to create or improve your shopper marketing plan? This is the perfect book for you. In the Complete Shopper Marketing Guidebook, you will find actionable strategies, tactics, surveys, guidelines, and examples that will help you implement your shopper marketing program.
Steve Smith has been an associate professor of Sales Promotion Strategy and Shopper Marketing at Loyola Graduate School of Business for many years which tells a lot about his experience and expertise in the field. Learn from a professional how to improve your shopper marketing efforts.
"Effective promotional marketing plans require sound objectives, strategies, and tactics, which this book focuses on. However, it also covers the make-or-break aspect of promotions – logistics. How to turn your plan into action. That requires more finite planning and coordination. I planned and directed complex promotions for major corporations, and hopefully, this book provides a clear roadmap for others to do the same."

Steve Smith, author of The Complete Shopper Marketing Guidebook - How to Understand and Influence Shopper Behavior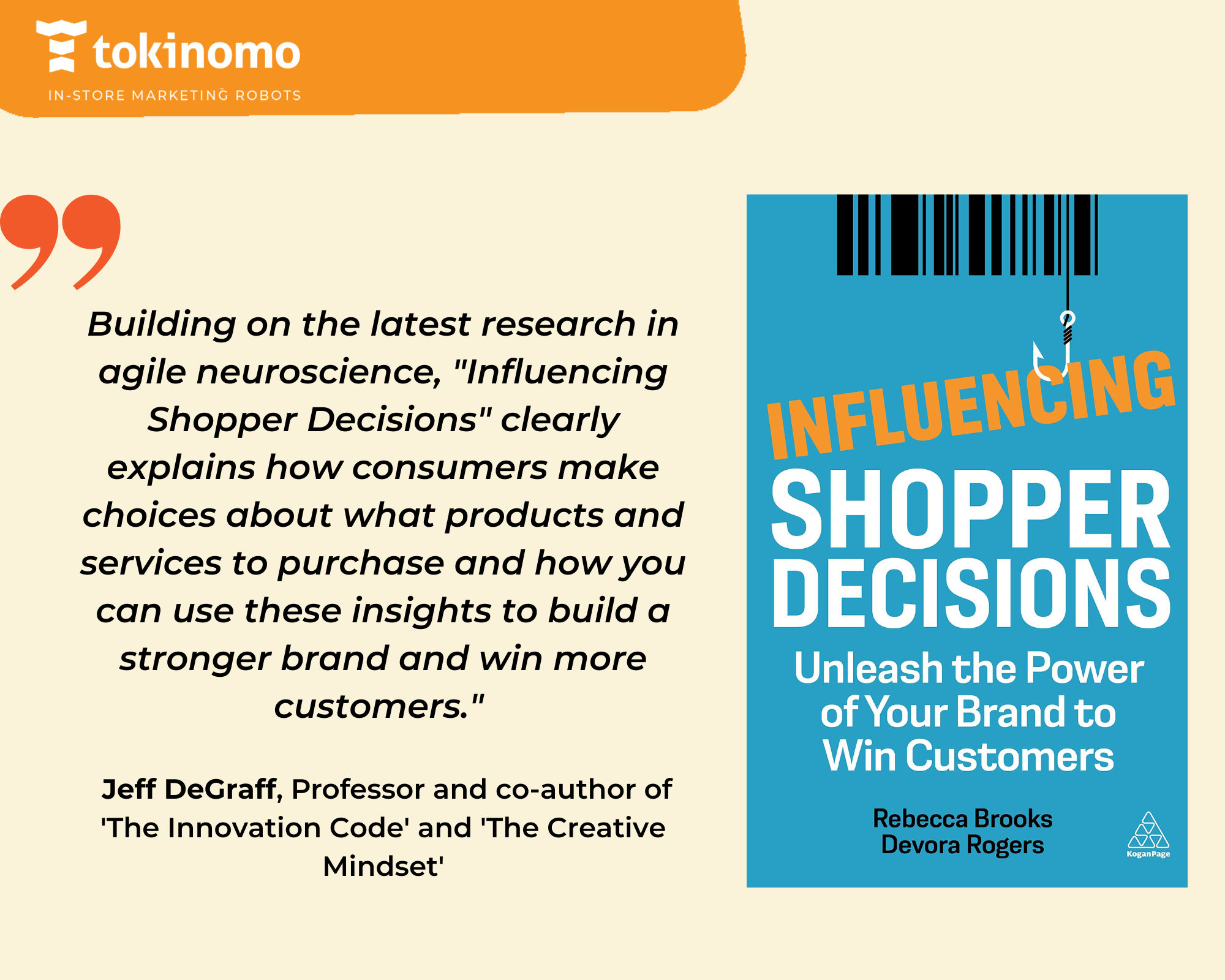 One of the most recently published books from our top, Influencing Shopper Decisions, sheds some light on the shopper mindset. Find out how you can influence shopper decisions in this over-stimulating world.
With tens of channels and tactics available, this book highlights the best shopper marketing strategies that you should undertake if you want to win over more customers. Devora Rogers and Rebecca Brooks, two praised market researchers reveal how brands can persuade shoppers to purchase more.
Learn more about your shoppers
These are the best shopper marketing books that every retail professional should read. They offer actionable insights and uncover what triggers shoppers to make purchasing decisions. If you want to suggest a shopper marketing book that didn't make it to this top, write to us.