There are hundreds of buzzwords in both marketing and retail. While some just end up being fluff, brand activation is an essential strategy for retailers worldwide.
In shops full of brands and products, how can new brands (or brands that rebranded themselves) catch the attention of shoppers? Customers are usually inundated with options. They either buy a product from a brand they love (brand loyalty) or because it's cheap.
It's why brands need to develop better campaigns, attract shoppers, and make sure that they at least generate trials among them. If customers don't spot your products or your brand, you have no chance of getting your products off the shelf and into the shopping carts.
This guide will talk about why a brand activation strategy is essential, how it can be implemented, and different brand activation strategies that can help you.
TABLE OF CONTENTS
What is brand activation?
Brand activation means creating an event or campaign to promote your brand to customers and generate brand awareness, lasting customer loyalty, and increasing sales.
While it might seem like it is the same with brand marketing, brand activation means making your brand go from one stage to another in the sales cycles. In contrast, brand marketing focuses on maintaining a great image of your brand and engaging with customers regularly. Brand activation is just a part - albeit significant - of the whole brand marketing strategy.
You can introduce a new product or service with brand activations, show your rebranding, or simply gain more brand awareness. Unlike brand marketing which is a long-lasting strategy, brand activation takes place once, and it has to be engaging and creative.
As you might expect, a brand activation doesn't need to rely only on one type of marketing. Because brands need to come up with creative concepts, they use different types of marketing like interruption marketing, guerrilla marketing, or retailtainment.
Depending on your product, budget, distribution channels, and point of sale, you can create a brand activation that will amaze and entertain shoppers or potential customers.
Why is brand activation important
Nowadays, it is tough to stand out from the crowd. If you have a new brand or if you just rebranded, brand activation is a must. However, brand activations are not only crucial for newcomers. They can also be beneficial for well-known brands that want to attract attention.
Brand activation can help brands in many ways:
1. Attract attention
An essential part of any business is the customers, so brands need them to attract their attention. As you know, there are hundreds of options both in-store and online. With the help of a shopper activation, brands will be able to attract the attention of customers. If they notice your brand, then you have a bigger chance of them purchasing your product.
2. Increase sales
Every brand wants to increase sales, and a brand activation campaign can help you do just that. Because shoppers turn their attention towards your products, they are more likely to buy those products.
3. Increase brand loyalty
We all know that retention is much cheaper than acquisition. This is why every brand or business should focus on having loyal customers. Shoppers that love your brand and purchase your products end up spending more compared to new customers who might just be testing your products. With brand activation strategies, you can increase brand loyalty which is beneficial in the long run.
Types of brand activation
Now that we know why brand activation is essential, we should also look at the most common types of brand activations. As you might expect, there are different ways in which you can "activate your brand." It all depends on the kind of products you sell, your budget, and your preferences.
In-store brand activation
In-store brand activation is one of the most common types of brand or shopper activations. Why? Because your brand interacts and engages with customers right at the point of sale. Since they came to the store to buy products, they have money, and the products are available in that place, the chances of purchase are increased.
Unfortunately, few in-store advertising solutions can disrupt the attention of shoppers. Cardboard displays, end caps, and shelf talkers are not engaging enough.
While a store might be limited in space, in-store brand activations can also be creative and disruptive. Using a robotic POS display can increase your chances of attracting customers. Tokinomo is known for increasing brand awareness and sales.
The numbers talk for themselves: 40% of shoppers who saw a campaign implemented with Tokinomo remember the brand's name.
Experiential retail
(retailtainment)
Customers expect more from brands and retailers. Instead of simply buying products, shoppers want to experience something unique when they come to stores or pop-up venues. We call this retailtainment!
Experiential retail means offering customers an experience at the point of purchase. Some retailers created pop-up stores or allowed shoppers to use products to create an experience. For instance, Ikea organized a sleepover in one of its stores in which customers were allowed to choose the mattress, the pillow, and the type of bed they wanted. They also received tips and tricks from experts on how to sleep better. This experience allowed them to try out Ikea's products and learn more about a particular topic. On top of that, they had the unique experience of sleeping inside a store.
To create a fantastic experience in-store or anywhere else, you need to think about what your products are all about. Also, you need to take into consideration the needs and wants of your shoppers.
Events
Face-to-face events are a fantastic way to bond directly with customers. Before the Pandemic affected the world, many customers were thrilled to attend events. Some brands made exclusive events for their loyal shoppers, while others made events for product demonstrations.

At an event, your brand can be the center of attention, and shoppers get to see, touch, and try out your products without having other distractions.
Sampling
Another great type of brand activation is sampling. However, due to COVID-19, brands needed to find alternatives to sampling because they were no longer allowed in stores.
Everybody loves to be among the first people who try out your product. Also, who doesn't like free food or free make-up, right? Sampling is a great way to allow shoppers to interact with your brand and try out your products. Also, people can offer excellent feedback, which you can implement to improve your products.
Digital campaigns
Brand activations don't need to take place only in person. Businesses often rely on technology to promote their products and to "activate" their brand. You can take advantage of social media and create an influencer marketing campaign.
Another option for you is to combine physical and digital to obtain a phygital experience. Pepsi did so in 2014. During the World Cup, 250 million interactive cans were produced where users can play a football game with the world's five leading players.
These are just a few types of brand activations that you can do to impress your customers. Find something that works for your products and for your customers. After you select the type of activation, it's time to find out how to implement the campaign.
How to implement a brand activation
You decided that brand activation is a strategy that can help you increase brand awareness and loyalty? Then let's see how you can implement a brand activation campaign that will bring you the result you want.
1. Identify the key differentiators of your brand
This is the first step you need to take when you implement a brand activation. Thinking about what your brand stands for, its mission, and its vision is a must. Why? Because all brands can be great, not you need to see what can make your brand stand out from the crowd.

Is your brand green/eco-friendly? Is your brand focusing on CSR? Is your brand offering a unique product?

Find the differentiators of your brand, and that's how you start going forward.
2. The idea behind the campaign
Whether it is a brand activation or not, each campaign needs a great, creative idea. Once you find out your brand's differentiators, you can start from there. Think about recent trends and try to integrate them if you want to attract your shoppers' attention. Be creative but remember that this is brand activation, and some over-the-top ideas could affect how people perceive your brand.
3. Type of brand activation
Now it is time to decide what type of brand activation better suits your products and your resources. Going for an in-store marketing campaign is a great idea, especially for FMCG brands. Why? Because people come to grocery stores prepared to buy, you make your products stand out right at the point of purchase.

Also, retailtainment is a fantastic idea if you have a creative idea in mind that can highlight your brand's mission and vision. However, for retailtainment, you might need to have a slightly bigger budget.
4. Put it all together
Now that you have the idea and the type of campaign you want to implement, it is time for the implementation. Plan the campaign and consider the period of the campaign, the budget, necessary equipment or technology, and staff.

You need to keep in mind to set out clear KPIs so you can see how your campaign performed and see if you can change or adapt anything for a future campaign. Chapter VI will talk about the KPIs you need to measure for this type of campaign and show why it is harder to set out KPIs for brand activations.
Tips and tricks for an effective brand activation campaign
Now, you know what brand activation is all about and have some ideas on how to activate your brand, but how do you implement an effective campaign? Here are four tips and tricks that are going to help you figure it out.
1. Focus on what your brand stands for
During a brand activation, your brand is the most important. That's why you need to focus on showing it off.
Answer the following questions to know how to position the campaign:
What makes your brand stand out?
What are the values of your brand?
How are your products helping customers?
What differentiates your brand from other brands in the industry?
2. Respect and understand your customers
Some brand activations turned into publicity stunts because they did not know how to implement guerrilla marketing. You need to make sure that you respect your customers. That's why it is best to avoid over-the-top pranks and stunts.
Make sure that you have your audience in mind when you plan your campaign. Try to offer customers an interesting experience, not one that feels intrusive or annoying.
3. Allow shoppers to experience something new
A brand activation should allow customers to experience something new to perceive your brand in a certain way. Think about what your customers might like and try to combine it with the essence of your brand.
4. Rely on technology
Retail tech can be an amazing help for brand activations. Why? Because they can automate a task that was naturally done by one or two people. Tokinomo, the brand activation solution, is a wonderful asset that can help you implement a creative campaign in no time. The biggest benefit? You can make changes during the campaign without having to go to all the stores or having to shut down the campaign.
With the help of its cloud application, you can change messages, the movement of the product, and the volume of the sound.
Brand activation solution for FMCG brands
If you are looking for a way to engage with your customers and implement a successful brand activation in-store, then Tokinomo is the perfect solution for you.

Tokinomo is an in-store brand activation solution for FMCG brands. The robotic POP display can make products talk, sing, move, and dance with the help of innovative technologies. Brands can personalize their campaign the way they want.

One of the most significant benefits of using Tokinomo is that you can make changes during the campaign without shutting down the campaign or even going to the stores. With the help of the cloud platform, you can change the campaign's message, the voice recording, the volume, and the movement pattern for your products.

Knowing that in-store campaigns are more complex to track than digital campaigns, Tokinomo comes with unique data to help you see how your campaign is performing. You will be able to see foot traffic and the number of activations.

Thanks to our global partners, another great benefit is that Tokinomo is now available in over 30 countries.
Brands can use Tokinomo for brand activations, in-store promotions, shopper activations, in-store marketing campaigns, and product releases. Since the medium is the message, Tokinomo allows you to surprise your customers with innovative campaigns right at the point of sale.
Since Tokinomo is a great option for in-store brand activations and offers relevant data, let's also take a look at how you can measure the effectiveness of your brand activations.
How to measure the effectiveness of a brand activation
How do you know if your campaign was a success or not if you don't even measure the results? Setting out clear KPIs is a critical step, no matter the type of campaign you want to implement. In this chapter of the guide, we will focus on KPIs that can help you measure the effectiveness of your brand activation.
1. ROI (Regular and marginal)
One of the most important KPIs for (almost) any marketing campaign is ROI, short for Return on Investment. Brands know that they need to invest money in campaigns. However, they want to know that the money invested brings back more money.
For a brand activation that takes place in-store, during an event, or even online, it is a great idea to calculate ROI.
The simple ROI formula is:

The profit is obtained by subtracting the cost (or investment) from the revenue. For example, let's say that you have a brand activation for one of your rebranded products. The product costs $10, and you sell 50 products per day. In one day, you gain $500 (total revenue). However, for one day, the brand activation campaign costs you $40. This means that your profit is $460 if you don't consider additional costs like staff and raw materials.

The investment for one day is $40, as we've mentioned. To know the ROI, you need to divide the profit by the asset. So 460 to 40. This means your ROI is 11,5 or 1150% which is fantastic and highly unlikely for that matter.

However, it can also help you to calculate marginal ROI. This way, you will see if additional investments are profitable or not.

Let's take the same example, but add more: Your campaign takes ten days. In the first five days, you decide to add something more to your campaign, leading to an increase in investment of $40 per day. Now your investment is $80. During the first five days, you managed to sell 50 products per day (2500 in total). After you added new displays, you managed to sell 55 products per day (2750).

Now, to find the marginal ROI, you will have to follow this formula:

Let's calculate:
Profit 1 is: 2500 - 200 = 2300
Profit 2 is: 2750 - 400 = 2350
Investment 1 is: $200
Investment 2 is $400
The marginal ROI, in this case, is 0,25 or 25%, which is a really poor ROI. This shows that the investments made after the campaign already started were too big or unnecessary.
2. Conversion rate (for digital campaigns)
If you've decided to implement a digital brand activation campaign, you might want to look at the conversion rate. Suppose you are placing ads on Facebook, LinkedIn, Instagram, or any other social media channel. In that case, you can check their Analytics and see how many users saw your assets (banner, video, or different types of content) and how many of them interacted with them.

The conversion rate is measured when users perform a task set out by you. If you are selling products online, you will get a conversion when you hit the add to cart button or finish your order.

To calculate the conversion rate, you can use this formula:

If 2000 people clicked on your ad (conversions) and you have 5000 unique views of your ad, then the conversion rate of that campaign is 40%. This is a great conversion rate, by the way.

For an online store, if they have 50 conversions from one campaign that 5000 people clicked on, then the conversion rate is 1%.
3. Engagements per brand representative (for events)
This is a great KPI to set out for a brand activation that takes place at an event. Just check the number of engagements each brand representative experiences during the event—make sure each representative is measuring engagements using the same criteria, or you'll end up with data that can be used.
4. Social media brand awareness (for digital campaigns)
Another great way to measure digital brand activations is to check social media brand awareness. While it is hard to check brand awareness in general, you can see how many people engage with your brand or talk about your campaign online.

There are a few things you can track to see brand awareness in social media.
If you have a hashtag for the campaign, you can see how many people used it in their posts and on which platforms it was used more frequently.
You can also check the number of followers before the campaign and compare it with those after the campaign.
Brand mentions are also a great way to see the level of brand awareness in social media.
5. Increase in sales
One of the most common and most important KPIs to track is sales. If there is an increase in sales during a brand activation, you did something right. However, combine the increase in sales with the ROI to see if the increase in sales is profit or just going to cover the cost of the campaign.

An increase in sales is easy to spot. Before the campaign, take a look at how many products you sell, on average, per week. Repeat the same thing during the week of the campaign. Subtract the revenue from before the campaign from the revenue generated, and there you have it.
6. Brand sentiment (optional)
We've decided to add one optional KPI but highly recommended, especially after a brand activation. If you have the resources, you might also want to measure brand sentiment. We recommend you do this from time to time, as well.

While people might know about your brand, that doesn't mean that they love or even care about it. After a brand activation, you might want to look at how people perceive your brand and what they feel towards it.

Brand sentiment is a subjective indicator, and you can only measure it via survey. This means you need to find the right sample of people and ask the right questions.
Successful brand activation campaigns
Now that you know everything there is to know about brand activations, let's take a look at some of the most successful campaigns for a bit of inspiration.
1. Viper - 360 product launch and in-store brand activation
Viper is the first hard seltzer released in Romania. Considering that in Eastern Europe the hard seltzer category is a young one, it is even more difficult to launch a new product successfully. Besides the fact that Asahi Group had a 360° launch, they wanted an innovative brand activation in store.
With the help of Tokinomo, Asahi Group managed to implement a great brand activation at the point of sale, in 25 Auchan stores. The campaign generated trial among customers and increased sales by 60%.
Read the full case study!
2. Carlsberg - Guerrilla marketing meets brand activation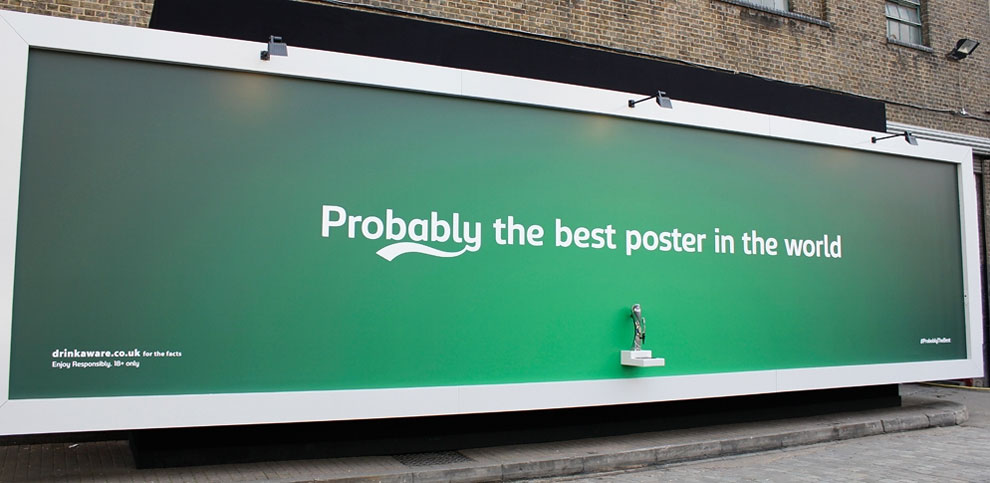 If you are a well-known brand with many resources, you have the opportunity to attract shoppers unconventionally. Carlsberg did precisely this using guerrilla marketing.

They placed a poster near the Old Truman Brewery in London. But not any old poster. Oh no!

The poster served free beer and highlighted "Probably the best poster in the world."

We might have to agree with this!
3. Stella Artois Hotel Artois @ Home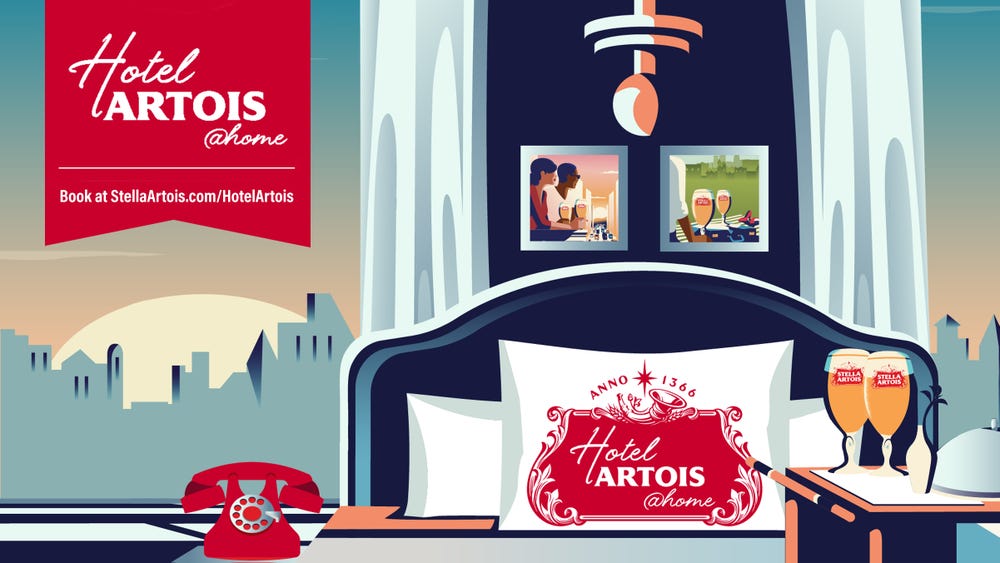 When many countries were in lockdown at the beginning of the COVID-19 pandemic, Stella Artois created a fantastic brand activation.

Stella Artois launched a virtual hotel experience for Americans so that they could avoid traveling during August 2020. The Belgian beer brand gave four free hotel reservations on its booking portal. Winners received a door-side delivery experience, including room-service meals created with actress Eva Longoria and local chefs, a personalized wake-up call from Liev Schreiber, and a virtual chat with Bravo host Andy Cohen. They also received a branded robe and slipper set.
4. IKEA: Private Dining Club
In 2016, Ikea decided to offer customers who love to cook a place to show off their skills. For one week, people could book a cooking and dining space at an Ikea store. Customers get to test different products while spending time with family and friends in an Ikea store.
5.
Contours: Stroller Test Drive
Last but not least, Contours found an innovative way to "activate" the brand. Since kids can't review their strollers, Contours decided to make adult-size strollers so the parents could test them. Even if you didn't try it and just saw a massive stroller in the park, you will still remember this brand.

Felt inspired by these successful brand activations? It might be time to implement your own. If you are looking for a great in-store brand activation solution, get in touch to learn more about Tokinomo.