Campaign corner
Gym routine. Propel has a new advertising campaign featuring actor Michael B. Jordan. In the campaign, Jordan is seen taking his gym routine to the streets, showcasing his intense workout regimen. The goal is to inspire viewers to stay hydrated and stay active while emphasizing the benefits of Propel's fitness water.
UEFA Champions League's partner. Pepsi proudly partners with Messi, Paris Saint-Germain, and the UEFA Champions League. Lionel Messi is greeted by a lively crowd of fans as he leaves his UEFA Champions League tour bus. Amidst multiple attempts to take a selfie with Messi, a young fan cleverly uses a Pepsi vending machine to capture his attention. Opening a Pepsi Zero Sugar can grabs Messi's interest, and the girl manages to take several photos while he enjoys the drink.
Retail technology update


Google and AI. Google tests generative artificial intelligence (AI) for search advertising. Google is testing a new feature that allows advertisers to provide descriptions of their products or services, and AI generates ad copy based on that input. This automated process aims to streamline ad creation and improve ad quality. The AI-generated ads are currently being tested with a select group of advertisers, and Google plans to evaluate the results before expanding the feature further.
Robots in store. SpartanNash is deploying Simbe's Tally robots in its stores to automate inventory management and improve operational efficiency. The robots move autonomously through the aisles, scanning shelves to track inventory levels, monitor product placement, and identify out-of-stock items. The real-time data collected by the robots help store employees restock shelves more effectively and make informed decisions about merchandising.
Expert opinion
Generative AI. What role(s) do you see generative artificial intelligence playing for retailers looking to improve the customer experience? How does Best Buy's approach compare to other retailers? These were the questions that retail experts responded to in one of RetailWire's discussions. Here's what Jeff Sward said:

Livesteam Shopping. What is your analysis of the current state of livestream shopping and where do you see it going? How would increased livestream engagement affect retail stores and other parts of retailers' businesses? Various retail experts responded to these questions in a RetailWire discussion. Here's what Neil Saunders said: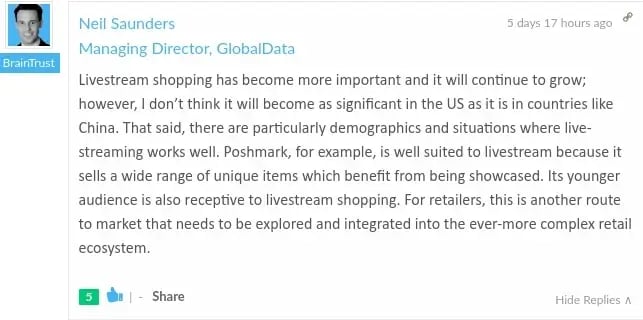 Health, wellness, and retail sales


Health and wellness subscriptions. Grocery retailers are increasingly offering subscription-based services focused on health and wellness products to cater to changing consumer preferences. These subscriptions typically provide curated boxes of products like organic foods, vitamins, supplements, and personal care items, delivered directly to customers' homes on a regular basis. There are several grocery retailers that have already launched or expanded their health and wellness subscription offerings.
Retail sales. According to the National Retail Federation (NRF), core retail sales saw a modest increase during that period. While the growth rate was slower compared to the previous month, it still reflects consumers' continued participation in the retail market. The article highlights various factors contributing to consumer engagement, including government stimulus packages, easing COVID-19 restrictions, and increased vaccination rates.