Campaign corner
Death to plastic. Did you know that only 5% of plastic is actually recycled? In Liquid Death's recent commercial, Whitney Cummings shows us how to "recycle" plastic. Of course, this is not an alternative and you shouldn't try it at home.
Obviously hard tea. Discover the latest "innovation" from Lipton - the Hard tea. In their latest campaign, Lipton shows that sometimes you need to switch from regular tea to a more enjoyable alternative - hard tea. Their new product is made with iced tea and it only has 5% alcohol.
Retail technology


The future of retail. There are four critical trends that will shape the retail industry in the next three to five years, based on an analysis of shopper behavior conducted by Google in partnership with Kantar and Bain. Ambient shopping experience, experiential retail, and partnerships are just some of the things that are shaping the future of retail.
Digital screens. Kroger is expanding digital smart screens in its stores' coolers. The screens, called Kroger Coolers, aim to enhance the shopping experience by providing personalized advertisements and promotions to customers as they browse the refrigerated sections. The screens use artificial intelligence and machine learning to analyze shopper data and display targeted content based on factors like demographics, weather conditions, and time of day.
Expert moment
Retail crime. Which procedures and/or practices offer the most hope for combating organized retail crime? Do you have any outside-the-box ideas for reducing incidents? These were the questions that retail experts answered in one of Retail Wire's discussions. Here's what Carol Spieckerman mentioned: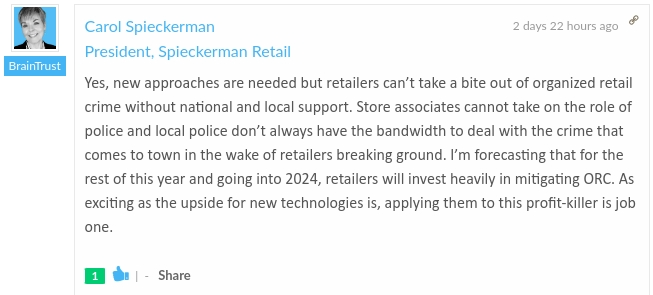 Panic buying. What can retailers do to lessen panic buying during crises? Do you agree that rationing frequently backfires? These were the questions that various retail experts answered in one of Retail Wire's discussions. This is what Neil Saunders mentioned: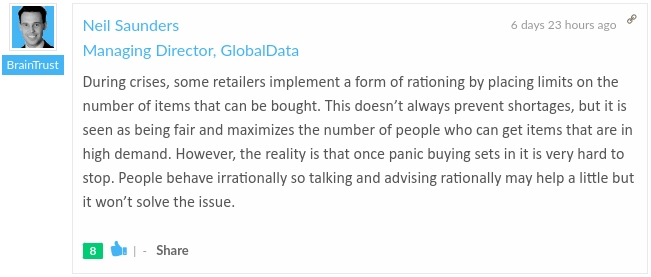 Online orders and experiential retail


Experiential retail. Retailers are reimagining store layouts to create visually appealing spaces that encourage exploration and discovery. They are incorporating elements like interactive displays, digital signage, and themed areas to captivate customers' attention. Also, retailers are leveraging technology to enhance the shopping experience. This includes virtual reality (VR) and augmented reality (AR) applications.
Online order preferences. What food and alcoholic beverage items are consumers ordering online? It highlights the shift in consumer behavior towards e-commerce and the impact of the COVID-19 pandemic on online grocery shopping. According to data from NielsenIQ, some of the most popular food items ordered online include fresh produce, dairy products, meat and poultry, and pantry staples like pasta and canned goods. Health-conscious items like organic and plant-based products also saw an increase in online orders.