There is something we can all agree on: everybody loves a good in-store promotion. It doesn't matter if it's a discount, a BOGO deal, or a 50% off for the second product, people will be interested.
Why?
It's all about avoiding pain and seeking pleasure. Both the Regulatory Focus Theory and the Pleasure Principle show us that people want to avoid bad situations and look out for pleasing scenarios.
However, in-store promotions are not all about cutting prices. In-store promotions are a marketing tool that helps brands promote their products inside brick and mortar shops, right at the POS.
Did you know that FMCG brands invest more than 20% of their total revenue in in-store promotions?
This is a huge number and, as you might expect, some types of promotions work better, while others won't help you break even.
In order to know what types of promotions work and which ones are a waste of money, let's see how you can measure the effectiveness of your in-store promotions.
How to measure the performance of your in-store promotions
While an in-store promotion might seem easy to implement, brands and retailers alike put a lot of effort -and money- into it. This is why you need to measure the performance of each promotion and see which one is more effective for your brand.
One of the most common KPIs to measure when implementing an in-store promotion is the ROI (return on investment). However, simply calculating the ROI of a trade promotion is not enough because costs and revenue might change over the period of your promotions.
This is why we suggest you measure Marginal ROI. It will help you see the real results of your campaign even if you made a few changes over time.
1. Marginal ROI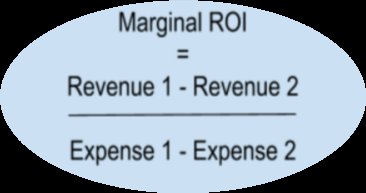 To give you a simple example, let's say that you sell potato chips. You choose to promote your products and in the first week you invest $50 in promotion. During the first week your revenue is $200. The second week you decide to invest more in your promotion and spend $70 instead of $50. However, in that week, the revenue barely made it to $205.
Your marginal ROI will look like this:
$205 - $200/ $70 - $50
Your marginal ROI is just 25%. For every $1 you invest, you get back only 25 cents. This shows you that you elevated your expenses too much during the second week.
If you calculate the standard ROI you will get an estimate of 197%. That's why it is better to measure the marginal ROI to see, over time, how your in-store promotions are working.
2. Incremental rate

Another formula that can show you the performance of your in-store promotions is Incremental rate.
It's a simple way to see the way your promotions are working. For example, let's say that you sell 100 bags of chips and each bag normally costs $3. This means that your historical revenue is $300 per week.
You decide to do an in-store promotion and give 50% off for the second bag of chips purchased. During that week you sell 130 bags of chips. However, the first 65 are at the price of $3 and the other 65 are just $1.5. This means that your realised revenue is 292.5.
Your incremental rate during this in-store promotion is negative (- 7.5). If you were to sell over 150 bags of chips, your incremental rate would have been positive.
Now that we've established what are the best ways in which you can find out the performance of your campaign, let's see what types of in-store promotions are the best.
In-store promotions that really work
1. BOGO (buy one, get one free)
We all love free stuff, right? People actually prefer getting another product for free instead of a discount. It might be because it's harder to spot a good discount and a buy one get one kind of promotion is much more appealing.
However, take into account the fact that BOGO promotions are not ideal of every type of FMCG product. If shoppers don't usually buy your product in pairs or in bulk, BOGO promotions might be useless.
2. Vouchers and coupons
Another great idea is to use coupons that people can collect and get a lower price for their products. This is a great idea for retailers because they can easily implement this type of in-store promotion.
How does it work?
It's easy, the more people buy out of your store, the more coupons they get. Let's say that for 10 coupons, they get a 50% discount for a certain product line from your store. At the end, people will end up purchasing more products just to get a better deal.
3. Discounts
While shoppers might choose a BOGO deal over a discount, there are some sweet spots when it comes to discounts. First of all, the good old 50%. Everybody falls for 50% off discounts.
Also, 20% and 33% seem to be great discount percentages. However, it depends on the type of product you are selling. If it's a high-end big priced product, you could easily offer a 10% discount and people will spot it immediately.
4. No price cuts, just robots!
What if we've told you that there is a better way to promote your products that doesn't involve price cuts?
Meet Tokinomo - the ultimate in-store promotions solution
Tokinomo combines sound, light, and motion technologies to bring your products to life. You can make your products talk, sing, move and dance with just a few clicks, on our cloud-based platform. Also, you can analyse important data in real time!
Most in-store promotions can help you increase sales by 20%.
With Tokinomo you get 10 times more! An average campaign with Tokinomo results in 200% sales lift!
Ready to lift sells without price cuts?
Drop us a line on hello@tokinomo.com and we'll make it happen!