Campaign corner
Adieu. Corona's recent commercial shows that relaxation means different things to different people. While Snoop Dogg and Karol G, both musicians, find ultimate relaxation by reclining in beach chairs, gazing at the ocean and savoring cans of Corona Extra, comedian Andy Samberg struggles to fully let go of the idea that there might be something else to explore. As a result, he "Adieu" to the group and enters into a trance-like state.
Boban Hand. Goldfish's commercial shows Boban Marjanović when he encounters Tobias Harris at the gym and spots him munching on Goldfish snacks. Boban eagerly offers his assistance and brings out his personal Boban hand dish. He then transfers the remaining Goldfish from Tobias' pack to his dish, before returning it to Tobias while singing "Here comes Boban hand."
Time for retail technology


In-game shopping. Amazon has launched a new feature called "Amazon Anywhere" that allows customers to shop for video games from their mobile devices while they watch Twitch streams. The feature was developed by Peridot and is designed to enhance the customer experience by making it easier to purchase games and accessories without interrupting their viewing.
Shoppable videos. The Fresh Market has partnered with Firework, an AI-powered video commerce platform, to create shoppable videos featuring AI-generated artwork. The videos are intended to inspire customers and promote The Fresh Market's products in a unique and engaging way. The AI-generated art will be used across a range of marketing channels, including social media, digital advertising, and in-store displays.
Sharing the
Expert
ise
Mobile shopping. "Do you see mobile devices evolving as shopping tools beyond helping consumers hunt down deals and lower prices? What opportunities around smartphones are retailers still missing?" These were the questions that retail experts answered in one of Retail Wire's discussions. Here's what Jeff Sward mentioned: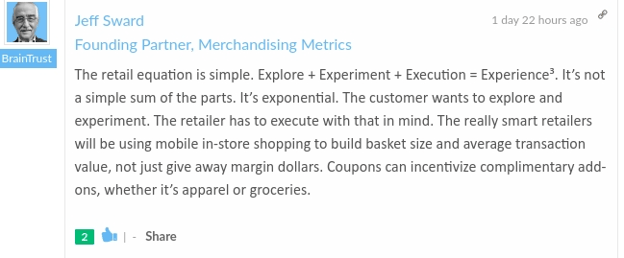 Time of the store. Since we are talking about sharing the expertise, we are excited to announce that Jeff Sward, Carol Spieckerman, and James Tenser are going to speak at InStore Disrupt 2023. Here's what James Tenser has in store for you: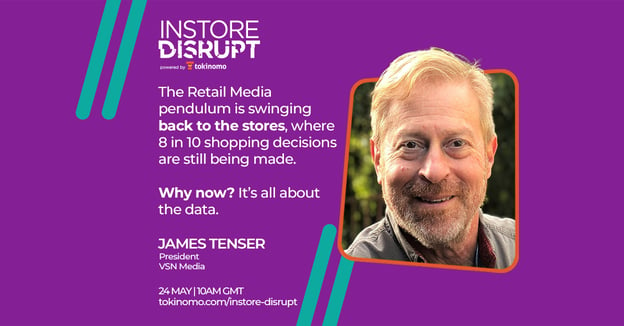 Join our event!
Buy now pay later and Instore Disrupt


BNPL in grocery. Buy now, pay later (BNPL) services are gaining popularity among grocery shoppers, with retailers such as Kroger and Albertsons launching their own BNPL programs. These services allow customers to break up their grocery bills into smaller payments over time, with some offering interest-free options. BNPL services are seen as a way to increase customer loyalty and boost sales, particularly among younger shoppers who are more likely to use them. However, there are concerns about potential financial risks for consumers who may not fully understand the terms of these services.
Don't miss InStore Disrupt 2023. Tokinomo is organizing an online event called "In-Store Disrupt 2023" which will explore the future of in-store marketing. The event will feature presentations and discussions from industry experts, retailers, and technology providers. The goal is to showcase innovative in-store marketing solutions that can help retailers enhance the customer experience and drive sales.