Campaign Corner
Triangles: they're everywhere. Triangles are everywhere and they look like chips. Doritos launched a new commercial, all topped by an online challenge meant to send people on the hunt for triangle trackers. There are weekly potential prizes of $15,000 and a grand price of $250,000. Worth the hunt, isn't it?
Wild commercial. As Samy Hawk beatboxes in the streets, he opens up a can of Pepsi Zero Sugar, which gives him the needed inspiration to compose his "Wild" hit. And that's how this commercial was born. Samy Hawk was crowned the winner on the Pepsi show, "Becoming a Popstar". His journey begins with this single. Pepsi says it's proud to support the next generation of artists.
Love means everything. Through this commercial, Beyoncé voices a tribute to tennis star Serena Williams and her absolute confidence in herself. Serena inspired young athletes worldwide and started a movement that allowed the next generation to love their bodies, voices, and identities. Beyoncé and Gatorade teamed up to make this statement: love means everything.
Retail tech news


AR shopping experience. According to eMarketer, e-commerce sales will make up 21% of worldwide total retail sales this year. And consumers expect a digital experience equal to or better than the in-store experience. AR (Augmented Reality) transforms the e-commerce experience from simply a destination to view products online to a complete experience where users interact and try products virtually.
InHome delivery. Walmart partnered up with myQ to expand the retailer's InHome delivery service, which brings grocery orders straight to consumers' refrigerators, garages, or front steps. Walmart workers will use "smart garage technology" to gain one-time access to clients' and drop-off deliveries. For shoppers that don't have myQ technology integrated, Walmart offers a free upgrade when they sign up for Walmart+.
BOOST e-commerce orders. Levi Strauss announced it's deploying AI to better service e-commerce orders. The company has launched a patent-pending technology called BOOST (Business Optimization of Shipping and Transport) that will digitally enhance its operations. BOOST will streamline e-commerce fulfillment by expanding available product searches to include stores, giving consumers more options if a product is out of stock at distribution centers.
Experts know best


Freezing prices. Like most other chains, Walmart is not publicly promoting its efforts to reduce or hold prices, outside of typical communications. Should retailers be doing more to publicize their efforts to selectively hold or reduce prices at this time? In this discussion on Retail Wire, Ananda Chakravarty offers a great point of view: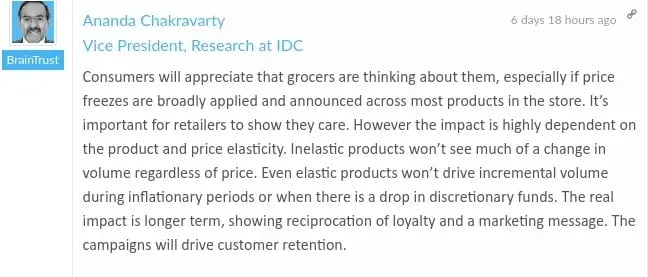 Organic or conventional? By comparing organic to conventional foods, organic scored favorably for being better at limiting exposure to synthetic pesticides, impact on the environment, and the treatment of farm animals. 44% of consumers feel like organic foods are about the same in nutritional quality versus 41% viewing organic as better. When talking about taste, 52% viewed organic as about the same as conventional foods, with 31% viewing organic as better. In Retail Wire's discussion, Neil Saunders shares some great insights on the matter.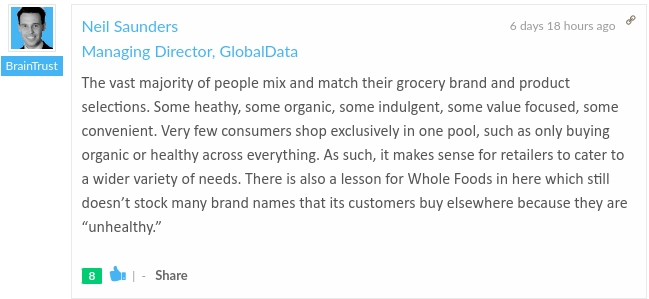 Transparency. In our latest expert round-up, we've talked about the future of grocery stores. Also, we've focused on the rising prices. Here's the advice Nicole Leinbach Reyhle shared regarding this topic:

Shopper benefits and sustainability


The after. Sainsbury begins to remove best before dates from 276 own brand fresh produce in a bid to reduce food waste. The new lines include pears, onions, tomatoes, and citrus fruits from over 100 product lines, and a further 130 products will follow. This move builds on the work Sainsbury's has done in recent years to remove dates from over 1,500 lines including, pineapples, pumpkins, apples, and indoor plants.
Truly vegan. Tesco has come in for criticism after labeling some fruit as unsuitable for vegans. Its oranges are labeled as non-vegan because of the application of post-harvest beeswax in the production process. Tesco is now looking for alternatives to this wax.
Supporting shoppers. In one of the latest blog articles, we've talked about the best ways in which retailers can support shoppers during this rising cost of living crisis. Check out insights about how the rising inflation is impacting shopper behavior.