What is real-time marketing?
Real-time marketing means creating and distributing marketing content based on current events or trends and doing it on-the-fly, thus connecting consumers with your products in a spontaneous, fun and memorable way. Let me break this down for you: some news-worthy event happens that generates interest in wide communities: it's a really hot topic, everyone is talking about it in real life and on social media.
Smart brands seize the moment and create content that relates to that topic, putting their product in a trending context that would generate immediate interest and word-of-mouth. This sparks not only the consumers' interest, but also generates consideration in buying the product. So brand awareness, brand loyalty and customer acquisition checked. That's something that love brands really know how to do.
Why is real-time marketing so appealing to consumers?
According to NG Data:
The benefits of real-time marketing are clear, leading to a 16% lift in customer sentiment, a 14% lift in purchase intent, an 18% lift in interest, the likelihood that a customer will recommend a business to others, and serious consideration. Ultimately, LeadSift's data reveals that consumers are 22% more likely to consider a brand as a result of real-time marketing.
Ultimately, LeadSift's data reveals that consumers are 22% more likely to consider a brand as a result of real-time marketing.
But why is it so appealing? Personalised content is the holy grail of marketing and being in the right place at the right time with the right content is incredibly attractive. People like creativity, they are and will eternally be seduced by it. So, as a brand, managing to use the context in your favour to make your products noticed is something equally creative, spontaneous and, pardon my French, damn hot!
Let's take a walk down memory lane to give you some examples.
Remember these amazing real-time marketing campaigns?
I think you'll agree with me that a power outage at the Super Bowl is something that will certainly go viral in a matter of seconds. That happened in 2013 and OREO took advantage of it in a delicious way. Bonus points for OREO, totally rocked it!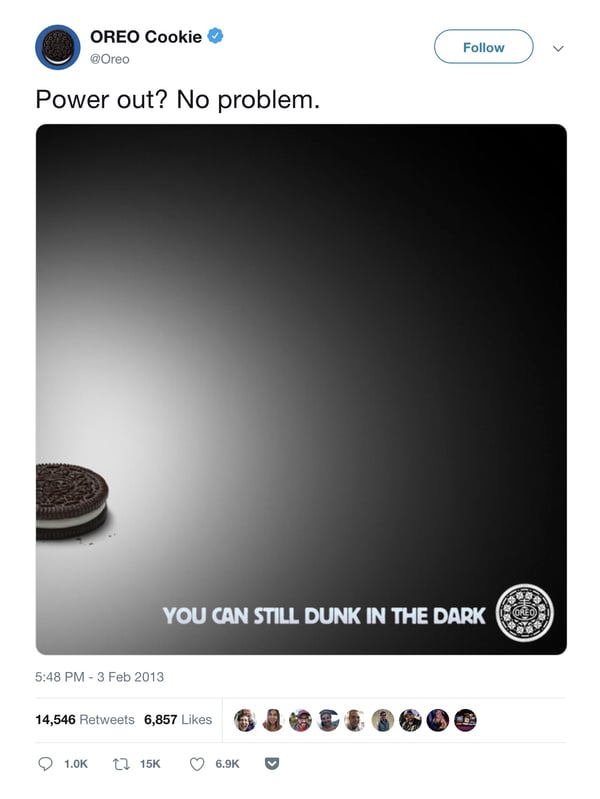 Speaking about the SuperBowl, let's stay here for another round of applause. Remember in 2015 when Cheerios tweeted this picture?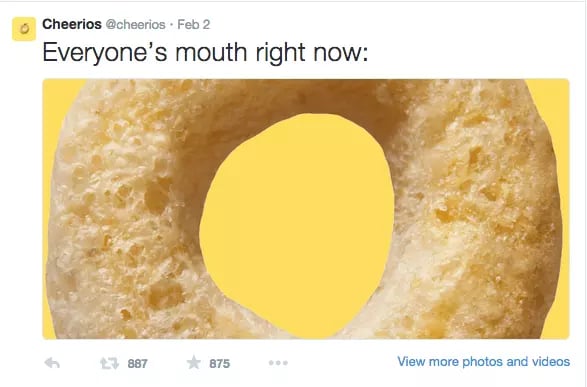 It was posted right after an impressive goal line interception by Malcolm Butler for the New England Patriot. You can imagine this photo went totally viral with 887 re-tweets and 875 favourited. Cheerios, scored!
Also, when Iphone released its new bendable Iphone 6, this is what happened: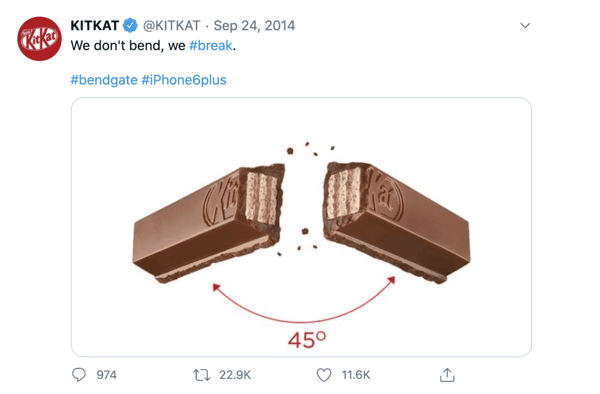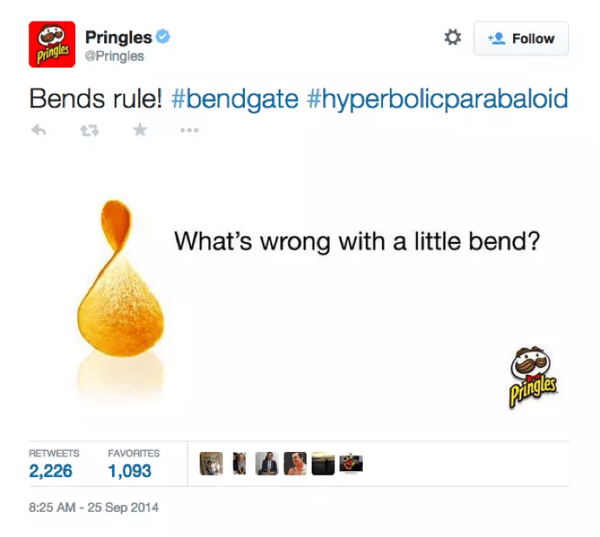 And to prove that not only CPG brands can do real-time marketing, here's how NASA joined the social conversation surrounding the Oscar winners.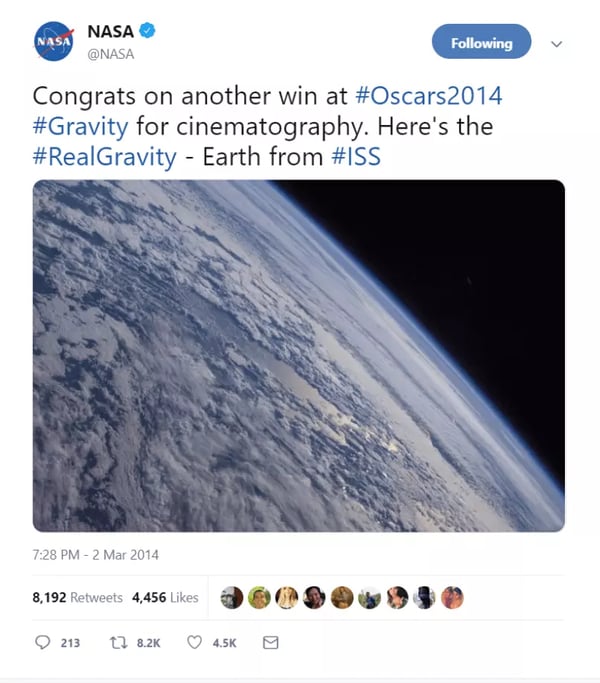 Nice, right? However, real-time marketing seems to belong to the digital world. After all, the "real-time" part of it is sort of essential, so I guess we all agree that if it takes two days to prepare some content, then it's not relevant anymore. This raises the most important question for shopper marketers and trade marketers who like a challenge: can we do real-time marketing in brick and mortar stores?
Doing real-time marketing in store is impossible. Or is it?
At a first glance it might seem impossible. What is there to do in a brick and mortar store? Create new shelf-stoppers? New graphics for wobblers? Change your entire sampling campaign on the go? Find a new costume for the hostess? Create a floor display? And do it all in a matter of hours??? We all know that's impossible. Traditional POS materials take a lot of planning, dealing with advertising agencies, implementation teams and store approvals. You're lucky if you could get these things done in a week. Hell, you'd be a hero!
But scratch all that and imagine you're using a shelf advertising solution that makes your product pop out of the shelf in a cool spotlight and talk to the shoppers walking by. The product actually reaches out to your consumers and communicates the exact message you want.
Just like this:
Now imagine this robot is constantly connected to the internet so you can change the audio files remotely, from your office, by simply uploading a new audio in a user-friendly cloud-based campaign management platform. Just like facebook ads.
This puts a spin on the whole real-time marketing discussion, right? Hot topic spreading around town? Why not use it in your favour at the point-of-sale, where usually nothing really interesting happens? That would make your product stand out even more! Besides all the shopper engagement, sales lift and customer interaction you'll already have gained by using Tokinomo robots.
So the answer to your question is actually YES. Yes, you can do real-time marketing in brick and mortar stores. Starting today, by using Tokinomo, the leading-edge shelf advertising technology. Just drop us a note and we'll make it happen!