Ok, so you've been thinking for a few days about new ways of making people buy your products or services. Nothing really interesting pops up, so there's just one last thing you can do. Not complicated at all: slicing those prices, in an attempt to make what you're selling more attractive and even gain a few new clients.
But there's a problem with this approach: it can do more harm than good, especially if you're an FMGC brand, struggling through these rough times which will, most likely, not end anytime soon.
A report from Harvard Business Review revealed that during the last recession, producer prices went down by almost 8% and needed almost two years to recover. And there's a simple explanation for this: executives believed that cutting prices and profit margins could be the solution to keeping both their customers and market share.
Surprisingly or not, this is quite common among salespeople.
In desperate attempts to make their quote, they usually fail to hold the line on discounting. Companies are looking forward to getting the most out of their asses and ignore the fact that demand may soften.
Far from being the best approach, if you ask us.
When used in excess, price cuts will eventually lead to an erosion of the brand. Why? Because not all consumers are price-sensitive, not to mention that it's not a secret that a lot of people shop based on emotions.
In time, it has been proven that the so-called 'across-the-board' price cuts can have a negative impact on a company's profitability, but also on its strategic position.
Of course, nobody says that as an FMCG brand you should completely avoid price cuts or any special promotions. On the contrary, it's absolutely fine to take advantage of some strategies based on discounts, especially on certain occasions - yep, we're looking at your, Black Friday - but again, the idea is simple: don't make a habit out of this or your customers will start perceiving you as that brand that isn't able to stand out with nothing but discounts.
You don't want that, we're sure about it. And it's not just us claiming this.
"Ok, but what about the big FMCG brands? You can't just tell me they aren't relying on price cuts at all!"
Well, we actually can.
Let's take a few of the biggest names in the game and see how they avoided discounts through the years and, instead, focused on branding. Because let us tell you a little secret: this approach can turn up to be way more rewarding.
Coca-Cola, for example, is an FMCG brand that needs no presentation. Have you ever seen them cutting prices, in an attempt to appeal to customers with, let's say, lower budgets? Never.
Their strategy was to move into smaller-brand markets through acquisitions. Specifically, they are targeting brands positioned as leaders in their limited niche, acquire them and seek new customers by positioning their products as premium ones, with higher prices. Also, they don't directly affiliate the Coca-Cola brand with the new ones from their portfolio at all.
It works very well, apparently, as they have been doing it for years.
In contrast, we have another well-known brand, Gillette, who opted for a price-cutting strategy and they were immediately 'hit' by analysts, as well as customers.
Back in 2018, Procter & Gamble, the company behind Gillette, decided that after a few years of losing market share to various challenges, it would be a good idea to cut the price of its razors by up to 23 percent. Guess what happened next?
Analysts from Barclays called this "an act of desperation" and Gillette razors, once advertised as premium products, were now targeting a wider array of customers. As expected, this affected brand loyalty as, basically bombarded with even more choices, some of their clients started looking elsewhere.
What's an alternative to price-cutting?
Lately, there's a whole new approach keeping the headlines, involving creating experiences between brands and consumers, by making excellent use of an activation - like product sampling, events, or, our favorite, immersive experiences - to bring brands to life!
It goes by the name of experiential marketing.
In fact, this entire concept became ridiculously popular and some of the biggest brands are integrating it within their strategies, offering unforgettable shopping experiences. Yes, we can actually call them unforgettable. After all, how often do you see a brand coming to life and interacting directly with you?
HBO did it, by putting together some escape rooms based on some of their most popular shows, like Game of Thrones or Silicon Valley, thus...forcing attendees to become fully engaged. Obviously, these turned out to be some massive hits!
In their attempt to promote their direct flights between New York to Palm Springs, Jet Blue placed summer accessories, including free tickets to their new destination, inside six-foot ice blocks and told passers-by that everything is up for grabs, as long as they were able to break the blocks. Oh, and this was happening in the midst of winter when pretty much everybody would love such an escape! And you guessed it, a great amount of buzz was generated.
But you know what's the best part about experiential marketing? It can be used by FMCG brands as well, with great results. Especially during these tough times, when the COVID-19 pandemic has seriously changed the rules of the game and the, let's say, classic types of promotions, like sampling or other direct interactions, are pretty much gone!
Uhm, so what now?!
This is where Tokinomo, a solution for experiential marketing and retailainment comes in.
Designed for in-store experiential marketing activations, our IoT device was built with FMCG brands in mind, with one single mission: spark joy through light, speech, and movement.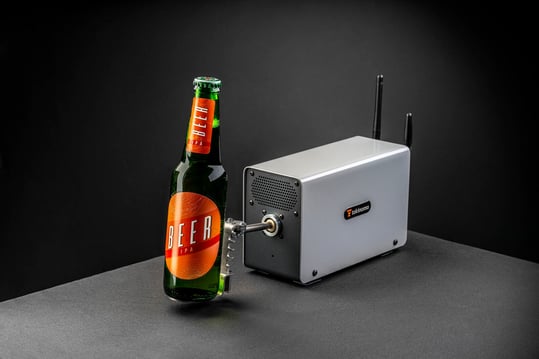 Each and every one of our devices allow you to use campaign audio creative assets remotely and see the results it generates remotely, through the dedicated Tokinomo app. Oh, and did we mention that it's pandemic-proof, being able to delight shoppers, while respecting all the sanitary measures?