Campaign corner
Light beer, strong promotion. Introducing the new Heineken Silver in the world of light beers. It promises great taste without the bitter aftertaste. With only 3.2 grams of carbs and 95 calories, you're invited to enjoy this top-tier light beer option. Apart from a commercial with Shaggy's voice, Heineken Silver also implemented a highly successful in-store campaign with Tokinomo Shelfobot.
126% sales increase. Spritzd, a fresh wine-based ready-to-drink beverage from AB InBev managed to increase sales by over 120% with an innovative in-store marketing campaign. Want to find out the secret? Here's a full case study.
Technology for retail


Digital risk. The NRF Center for Digital Risk & Innovation aims to address technology issues in the retail industry and their effects on policy and risk management. It responds to the need highlighted by Verizon data that shows 4.8% of reported data breach incidents occur in retail. Led by Christian Becker, the center will develop guidelines through collaboration with retailers and experts, focusing on influencing decision-making and risk management for retail leaders.
Retail media. Retailers, especially grocery stores, are increasingly entering the retail media space to remain relevant to customers, competitive in the market, and connected with brand partners. This trend extends beyond online platforms, as post-pandemic, grocers are incorporating retail media into the in-store experience. This includes innovations like smart carts, interactive kiosks, digital screens, and aisle-roaming robots. The retail media spend exceeded $40 billion in 2022 and is projected to surpass $45 billion this year, reflecting the ongoing growth and importance of retail media in the industry.
Experts sharing knowledge
Post-purchase experience. What annoys consumers the most about the online post-purchase experience? Is the opportunity for retailers about improving the delivery and returns process or becoming better at follow-up communication? These are the questions that various retail experts answered in one of Retail Wire's discussions. This is what Neil Saunders stated: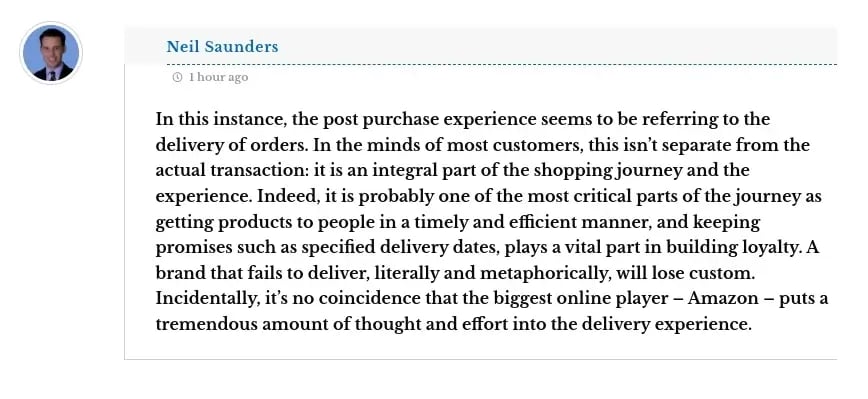 Chatbots and Customer Service. How much confidence do you have that generative AI will elevate chatbots into retail's primary customer service tool? Is the poor reputation for customer service chatbots currently more about subpar technology, customers' poor understanding of or comfort with the technology, or retailers misappropriately employing the technology? Various retail experts answered these questions in one of RetailWire's discussions. Here's what Shep Hyken stated:

In other news…


Online grocery shopping. July's decrease in digital grocery sales is part of an ongoing trend influenced by economic uncertainty and rising consumer costs. Factors like the end of emergency SNAP benefits and the return of student loan payments have negatively impacted online grocery sales. This trend is likely to persist into the first half of 2024 due to constrained purchasing power and limited consumer options. In July, pickup represented 45% of online grocery sales, delivery accounted for 36%, and ship-to-home orders made up 19%.
Generative AI in retail. Generative AI is a major focus for Consumer Packaged Goods (CPG) companies, with technologies like ChatGPT reshaping operations and sparking innovation. CPGs are finding diverse applications for generative AI to improve efficiency and consumer engagement. While Gartner predicts generative AI will transform tasks and jobs, its ethical use remains a concern. Major CPGs like Mars are using generative AI for unconventional purposes, such as predicting pet health and optimizing manufacturing.