Campaign corner
Get a vasectomy. Ryan Reynolds and Jessie James Decker have joined forces once again to create a third version of "The Vasectomy" cocktail! To celebrate Father's Day this year, Aviation American Gin is reintroducing the popular drink, now known as the "Decker Edition," with the assistance of the talented singer-songwriter. In a recently released video Jessie demonstrates the step-by-step process of concocting the beverage, originally crafted by Reynolds.
You need drip. Gatorade pays homage to its iconic 90s commercial starring Michael Jordan from the Chicago Bulls and the catchy tune "(I Wanna) Be Like Mike," and updates the message of aspiring for greatness in the present day with an inspiring speech delivered by Eminem. Whether you possess the championship pedigree of Serena Williams, the record-breaking speed of Sydney McLaughlin, or you're embarking on your sports journey by recording dunks and trick shots at home, the fundamental key to achieving greatness lies in "believing in yourself."
Retail technology


Online prices. Online prices experienced a significant decline, marking the largest drop since the pandemic began. This decline in online prices is attributed to the easing of pandemic-related supply chain disruptions and increased competition among retailers. The drop in prices is expected to provide relief to consumers who have been grappling with rising inflation rates.
Retail media. Traditional grocery store models are being challenged by e-commerce giants like Amazon, as well as direct-to-consumer brands. To combat this, grocers are increasingly leveraging retail media, which involves selling advertising space within their physical stores, online platforms, and mobile apps. By monetizing their customer data and leveraging their physical locations, grocers can create targeted advertising campaigns that generate additional revenue streams.
Expert opinion
Independent retailers. "Are independent grocers getting better at leveraging their advantages to compete with chain store competitors? What are the keys for small grocers to remain successful in markets where they compete with rivals with more resources?" Various retail experts shared their thoughts regarding this topic in one of RetailWire's discussions. Here's what Ken Morris mentioned: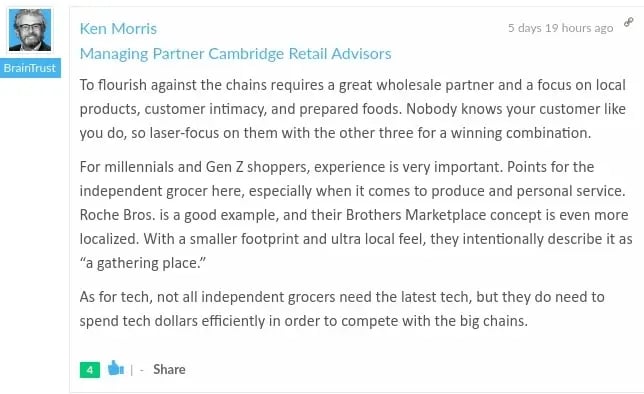 DTC era. "Is direct-to-consumer a viable business model? What can brands built on a DTC model do to continue thriving?" These are the questions that retail experts answered in one of Retail Wire's discussions. This is what Jeff Sward stated: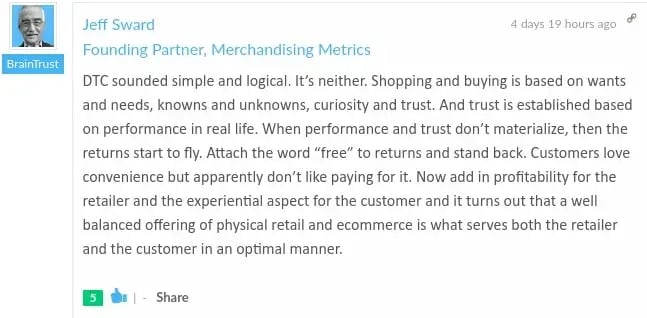 Back to school and private brands


Back to school. The BTS season presents a valuable opportunity for brands to connect with consumers and influence their purchasing decisions. However, with increased competition and evolving consumer expectations, brands need to adopt innovative approaches to break through the clutter. Brands should analyze trends, such as the rise of e-commerce, the influence of social media, and the demand for sustainable and inclusive products.
Private brands. Private brands need to invest in innovation to differentiate themselves, cater to evolving consumer preferences, and stay competitive in the market. By focusing on product development, packaging, and marketing strategies that offer unique value propositions, private-label brands can strengthen their position and drive customer loyalty. Retailers and suppliers need to collaborate as well as invest in data analytics and consumer insights, to fuel innovation and enhance the overall quality and perception of private label products.