Campaign scoop
Press Play. Rockstar, the energy drink, plans to recruit several musicians as brand ambassadors in order to expand its customer base. The initial ambassador announced is Stormzy, a Mercury Prize-winning artist, who will be the main act at the digital concert experience on the brand's app. The concert experience, titled "Press Play," organized by Rockstar, a brand owned by PepsiCo, will make its debut on Spotify and will be headlined by Stormzy.
"Not so hot" hot sauce. Musician Ed Sheeran collaborates with a grumpy mascot named Ted, a fuzzy bear, to promote his Tingly Ted's hot sauce range. The hot sauce is described as a dip that brings a smile to your face, not make you break a sweat. The concept originated from Sheeran, and now two flavors of Tingly Ted's hot sauce are being introduced to grocery store shelves.
Technology for retail


Google's AI tech. Google is developing a generative artificial intelligence (AI) tool for virtual try-on in the retail industry. The tool aims to enhance the online shopping experience by allowing customers to virtually try on clothes and accessories before making a purchase. Google's AI technology utilizes generative models to create realistic virtual representations of clothing items on a user's body. T
Unilever's investment. Unilever is implementing artificial intelligence (AI) in its product development process. By utilizing AI technology, Unilever aims to streamline and optimize its product development, allowing for faster and more efficient innovation. The use of AI enables Unilever to analyze consumer insights, identify trends, and generate new product ideas, ultimately enhancing its ability to meet consumer demands and preferences.
Sharing the Expertise
Retail Media Networks. Do you see retail media networks being able to tap into brand ad budgets in a meaningful way in addition to trade funds? What will need to occur for this to happen? This was the topic of the Retail Wire's discussion where various experts shared their opinion. Here's what Ken Morris mentioned: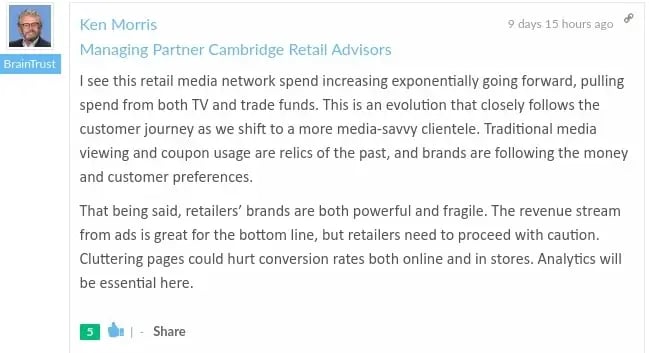 Online returns. Are retailers missing a major opportunity to encourage or incentivize exchanges at the returns stage? Do you see exchanges potentially significantly reducing the cost of returns? Retail experts and influencers answered these questions in one of Retail Wire's discussions. Here's what Shep Hyken stated: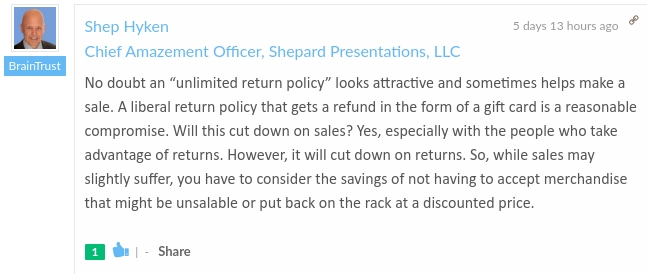 Grocery inflation and private label production


In-house production. Grocery retailers are bringing their private label production in-house and there are benefits associated with this approach. Retailers are expanding their manufacturing capabilities to gain more control over their private label products, improve quality, increase profit margins, and better meet customer needs. The shift towards in-house manufacturing allows grocers to differentiate themselves, build customer loyalty, and compete with national brands more effectively.
Grocery inflation. The latest Consumer Price Index (CPI) figures from the Bureau of Labor Statistics (BLS) show a significant change in the U.S. inflation landscape compared to 2022, with food and grocery prices experiencing a notable decline. Grocery inflation has decreased to 5.8%, less than half of the level observed in August 2022 when it reached 13.5%, the highest rate in over four decades. While there has been a consistent year-over-year decline in grocery prices, the month-to-month data reveals some fluctuations, with produce prices contributing to a slight increase in May.