Didn't get a chance to go to EuroShop 2023? Don't worry, we'll give you a quick overview of the most important topics discussed at the event. Also, we'll show you what Tokinomo brought to the trade fair and share a few community moments & stories. Read on to see why so many people stopped by our stand.
Euroshop 2023
EuroShop is the world's number 1 retail trade fair that takes place every year in Düsseldorf, serving as a platform for the evolution of modern stores that embrace the latest technologies.
The exhibition covers a wide range of topics, including shop fitting, POS systems, pricing equipment, inventory control systems, lighting concepts, safety engineering, store equipment, store design, storage facilities, and outdoor advertising.
Retailers and brands from more than 140 countries attended EuroShop 2023 last week (February 26 to March 2) and discovered the latest innovations across the exhibition.
Hot Topics discussed at Euroshop

The event offered products, solutions, presentations, talks, and special areas that addressed questions and provided answers concerning the retail industry both now and in the future.
What are this year's hot topics?
Implementing Third Places in stores
Simply focusing on sales is often no longer enough to ensure the success of a physical retail concept. Instead, the objective is to establish a welcoming environment where customers can enjoy spending time and return for reasons beyond mere shopping. The goal is to create an atmosphere that promotes comfort and transforms shopping into an experience.
Third Places are (semi-)public areas designed for people to meet, interact, exchange ideas, and develop a sense of community.
Customer Centricity is key
Customers are and will always be the center of the retail industry. Retail companies are increasingly prioritizing direct contact with end consumers to provide personalized and individualized customer services that meet their needs.
Provide an amazing Experience
In the age of growing digitalization, creating experiences that inspire enthusiasm and encourage customers to stay and return is crucial when designing physical spaces. Key elements include stimulating the senses, establishing a feel-good atmosphere, and seamlessly integrating all digital channels to provide a positive and holistic customer journey.
Creating vital city centers
Retail locations are becoming less appealing due to the increasing vacancy rate, lack of visitors, and a declining sense of connection between citizens and their cities. In the face of accelerating digitalization, creating attractive and vibrant city centers is a critical priority for urban planners, brand experts, and the high-street retail industry.
The importance of Connected Retail
Omnichannel commerce has experienced a significant surge in the last 3 years. Click & collect services have become the standard for consumers, and numerous retailers have integrated their loyalty systems from both online and offline realms, providing customers with a comprehensive view of their purchases. For every retail company in the future, the seamless integration of digital and brick-and-mortar channels will be crucial.
Sustainability for conscious customers
Sustainability has emerged as a major strategic concern for the retail industry as a whole. Numerous retailers are pursuing carbon neutrality across their entire value chain, and there is a significant increase in demand and supply for sustainable solutions.
The power of Smart Stores
The digital transformation of the retail industry has resulted in brick-and-mortar stores becoming increasingly intelligent. Automated store concepts have become prevalent, where the shopping process is mainly digital and unattended.
Sensor and image recognition technologies are integral to this development. They are used in conjunction with other applications such as "smart" shelves that monitor inventory and identify out-of-stock items, electronic price tags, and intelligent scales.
Energy Management
With the ongoing changes in the energy market, precise monitoring and control of energy consumption in retail stores will become an essential factor for success in the future of every retail company.
What made Tokinomo the talk of the town at EuroShop 2023?
Wondering why so many people stopped at our stand. Here are 4 things that Tokinomo brought to Euroshop:
1. Our Hero product - Tokinomo Shelfobot
Of course, we couldn't go to EuroShop 2023 without our award-winning product, Tokinomo Shelfobot. As you probably know, Tokinomo Shelfobot is a cutting-edge in-store advertising solution that revolutionizes traditional visual merchandising techniques. It provides a dynamic and interactive experience for customers and creates an exceptional way of brand communication at the point of sale.
With the help of Shelfobot, tens of brands and retailers like Nestle, Coca-Cola, Heineken, and Auchan managed to increase brand awareness in-store, create amazing experiences for their customers, and ultimately increase sales. Tokinomo in-store robots have been used by FMCG brands with sales lift ranging from 30% to 944%. All this WITHOUT reducing the product's price! Various campaigns implemented with Tokinomo Shelfobot gained international recognition for creativity and innovation. At the moment, Tokinomo Shelfobot has over 40 distributors from all over the world. Here are a few case studies.
We graduated from the Boom Accelerator in the USA, have been rated as one of the Top 10 Technologies in the US in Consumer Goods Summit NY, and have won tens of international awards for innovation and sales performances, including the Retail Innovation Award at RBTE London and Best POP/POS Concept & Innovative Product Display, at the Creative Retail Awards. Our patented product/technology is built retail-centric. It is designed especially for the in-store space.
Haven't tried out Tokinomo's Shelfobot yet?

Book a demo to find out more about the product.
2. Award-winning Tokinomo, announces the launching of 2 new shopper innovations
We believe that the future of retail is experiential and that's why we developed 2 new products that cater to a stronger in-store connection between brands and customers. Let's make the introductions:
Meet Visibubble!
Visibubble is a versatile and playful solution for brand communication that can be used in various locations, including small and large shelves, cashier areas, fridges, and windows. You can add Visibubble in any type of store such as hypermarkets, supermarkets, convenience stores, pharmacies, and gas stations. This is cost-effective and scalable for brands to connect with customers in-store.
Meet Shopperscan!
A state-of-the-art AI platform has been created exclusively for physical stores to examine the behavior and characteristics of shoppers in relation to products and shelves. The platform can assess a range of metrics and data points, such as foot traffic, dwell time, demographics, engagement, peak periods, and shopper flow. The shelf analytics, Shopperscan can be a powerful tool for brands that want to know more about their customers.
We offer exclusivity in the category during the campaign, so now is your chance to be THE FIRST ONE to implement our shopper innovations and to win at the shelf.
We are doing a limited series of dedicated presentations and so fill in the demo form to secure a spot for you and your team to an exclusive preview of what we are launching.
3. "Why you shouldn't have a Retail Tech Startup". Or should you?
Ionut Vlad, Tokinomo's CEO had a speech on "Why you shouldn't have a Retail Tech Startup". Yes, it's definitely a challenging industry, but it's also a satisfaction in seeing shoppers enjoy their experience in-store. Also, Ionut busted a few retail myths during his speech at the EuroShop 2023:
Brick and mortar is dead:




It's not, it's only changing. We, at Tokinomo, believe that the future of retail is experiential and physical stores have the power to offer a full shopping experience, reaching all senses.

Omnichannel consistency means providing the same experience on every channel:




No, it means having different segmented approaches on each channel, but with a common experience in mind.

Lack of access to data at the point of sale:




This is not a myth. It was a reality, but we've created Shopperscan to solve this issue.
4. Shaping the

Future of Retail

together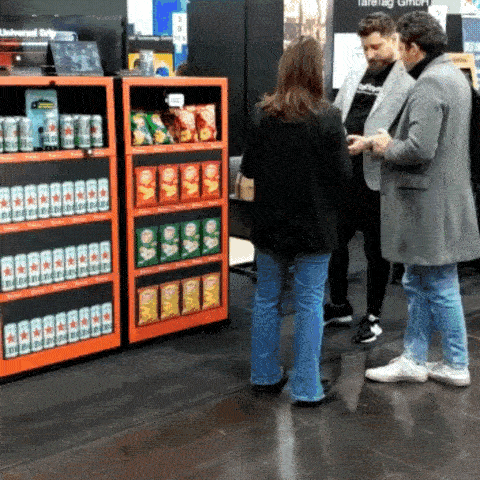 Last but definitely not least, Tokinomo brought a sense of community at EuroShop 2023. Feeling fortunate to be part of such a vibrant global community of partners who do not settle and who are committed to designing powerful retail experiences. It was an amazing opportunity to get in touch with our like-minded partners. Since we all know the importance of innovation in the retail industry, it was great to exchange ideas and plans.
Here are just a few of our partners that visited us and we'd like to thank them for showing us that Tokinomo is truly a worldwide family:
Thanks to all of our partners! We are excited to have distributors that have the same vision and mission as Tokinomo: Make the retail experience unique!