Campaign corner
Add some "bueno". According to Tajín's commercial, its blend of chili, lime, and salt boasts a unique flavor that matches the diversity of those who use it to spice up their food. Whether you're a seasoned Tajín enthusiast or a newcomer, the seasoning brand welcomes you to add some "bueno" to your meals with its seasoning and chamoy sauce, which can be enjoyed in a multitude of creative ways, from party appetizers to everyday dishes.
Tavis's Enema. Liquid Death did it again! We all know that this brand wants to shock and it managed to do so with its new campaign. Travis Barker is launching a new line of enemas in partnership with Liquid Death, a canned water brand. The product, called "Liquid Death Enema," is said to offer various "benefits". Watch the commercial to see for yourself.
Retail innovation to discover


Coca-Cola's AR. Snapchat's parent company, Snap, has partnered with Coca-Cola to introduce an AR-enabled vending machine. The prototype machine allows customers to engage with AR experiences and rewards, using hand gestures to control what happens within the experience. The partnership is part of a long-term plan to build an AR ecosystem for the Coke brand, which includes Snap's suite of AR shopping tools. Other brands, such as Nike, have also used Snap's AR technology in their stores to offer customers immersive experiences.
Square's new feature. Square announced the addition of new software features aimed at helping its merchant clients generate revenue and automate tasks. One of the new tools that Square is rolling out is a waitlist feature that enables merchants to use its appointments-focused product to manage appointment windows more efficiently, thereby increasing the number of service bookings.
Expert advice
Indie revival. Did the pandemic lead to an indie revival in retail, as consumers seek out more unique and authentic shopping experiences? While many independent retailers struggled during the pandemic, others were able to adapt and thrive by offering online shopping and curbside pickup options. Here's what Paula Rosenblum mentioned in one of Retail Wire's discussions: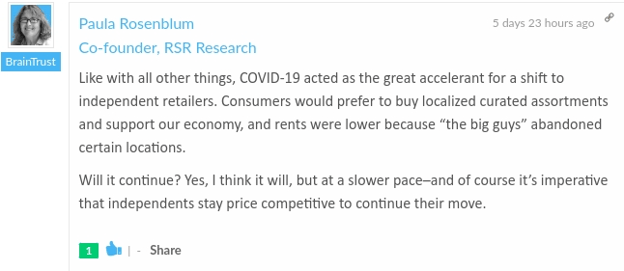 Money to spend. Do you see a glass-half-full or half-empty scenario for retail over the final three quarters of 2023? Is the retail industry stronger or weaker today than before the pandemic? This was the topic of Retail Wire's discussion. Here's what Neil Saunders stated: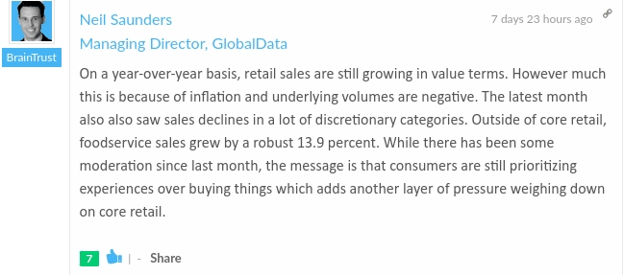 Grocery purchases and sustainability


Sustainability. Sustainability initiatives can impact the bottom line of grocery retailers. Consumers are becoming more environmentally conscious, and are willing to pay more for products that are eco-friendly. Retailers can increase profitability by implementing sustainable practices such as reducing food waste and using renewable energy. Several retailers have seen positive results from implementing sustainability initiatives, including cost savings and increased sales.
Grocery purchases. Despite the rise in grocery prices, fewer shoppers are cutting back on their purchases. This is likely due to a combination of factors, including the fact that consumers are spending more time at home and cooking more meals themselves and that they are prioritizing their grocery purchases over other discretionary spending. The article cites data from a recent survey that shows that while consumers are aware of the price increases, they are still buying the same amount of groceries as before. However, consumers are also looking for ways to save money, such as by buying store-brand products or shopping at discount retailers.
Join us at In-store Disrupt 2023!