5 Differences Between Digital & Brick and Mortar Shopper Experience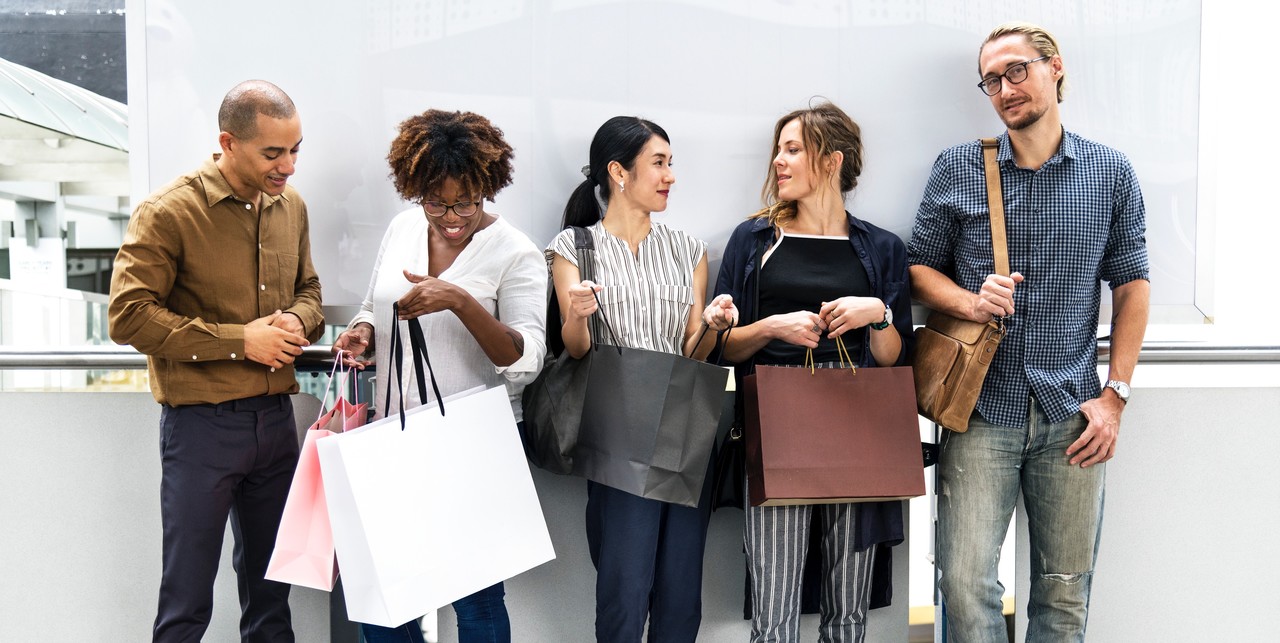 Over the last two decades, the shopping experience has changed dramatically. With the majority of retailers now having an online presence, including large brands and independent boutiques, buying products over the internet has never been easier.
Figures by Statista put global e-commerce sales in 2018 at $2.84 trillion. By 2021, this is predicted to rise to $4,88 trillion. The top 3 countries with the highest e-commerce sales in 2018 were UK, China and Norway.
With these figures, you'd think that in-store shopping is dead. Well, the numbers show it isn't. In 2018 global retail sales totaled $24.86 trillion. This is expected to increase to $27.73 trillion in 2020. This shows that it's still possible to make big sales through having a brick and mortar presence, and here are some reasons why:
"In 2018 global retail sales totaled $24.86 trillion. This is expected to increase to $27.73 trillion in 2020."
CLICK TO TWEET
1. Sensorial Factor
Being able to see and touch products is a prime motivating factor for people shopping in- store. The ability to pick up an item makes it easier to determine its quality and suitability, whilst comparisons to similar items can be made quickly. The shopper's in-store experience can be superior to shopping online, a fact which attracts those who want to see a product before buying.
2. Instant pick-up
While online shopping can be done anywhere at any time, you still have to wait for the item to be delivered. The huge plus of shopping in-store is that you can take the item away with you immediately. So, the shopper's experience is more pleasant as he or she doesn't have to sit around the house and wait all day for the delivery van to arrive.
3. Faster returns
The ease of returning unsuitable items is another reason why people prefer to shop in- store. Instead of having to parcel the item back up, post it back and wait several weeks for the refund to be triggered, unwanted items can be refunded or swapped easily and quickly in-store.
4. Enjoyable in-store shopper experience
While some love the ease of shopping online, many prefer the social aspect of in-store shopping. Scientists have found that the act of in-store shopping actually releases a chemical called Dopamine, which is responsible for pleasure. Plus, in-store shopping can be incorporated with other activities, like meeting a friend for coffee or stopping for a spot of lunch at a favorite café. Not to mention that it's the perfect opportunity to give yourself a personal moment: a moment of peace away from work or family. Almost like going on a mini trip!

5. Getting Information is Easy
Even though there is a vast amount of information online, finding the right information can be a hassle. Instead of trailing through numerous web-pages to find the answer you need, the same information can be obtained easily by asking an in-store customer service assistant.
Conclusion
While you cannot ignore online shopping, and in many cases, you need to make sure you have an online store, there are certain aspects of in-store shopping that will never be replaced in the virtual world. Humans crave personal interaction, and having our biological senses triggered (in a good way) can create experiences that stick with us for longer than a smoothly executed website. Retail technology will surely impact the sector greatly, and will keep customers going through your door.