Campaign corner
Good game. Coca-Cola and League of Legends are partnering up to create a unique beverage flavor designed for gamers. The partnership aims to tap into the growing popularity of esports and gaming culture. Coca-Cola plans to develop a new drink called "Coca-Cola GG," with the "GG" representing the gaming term "good game." The flavor is expected to provide gamers with a refreshing and energizing experience.
Marriage material. What makes you husband material? Apparently bringing a Heinz bottle of ketchup to a sushi tasting. In Heinz new commercial, a couple enjoys a sushi dinner together. Unexpectedly, the boyfriend surprises the chef and irritates his girlfriend by bringing out a bottle of Heinz ketchup. Surprisingly, Heinz sees this act as a positive indication of marriage material.
Technology for retail


Instacart's chat. Instacart has integrated a chatbot powered by OpenAI's ChatGPT language model into its app to enhance the search experience for users. The chatbot allows customers to engage in conversational queries and receive more personalized search results, making it easier to find specific grocery items. The goal is to improve the accuracy and efficiency of the search process, providing a more user-friendly experience.
AR in retail. Amazon's new augmented reality (AR) feature called "Hexa" will be available for to sellers. Hexa allows users to virtually try on products such as clothing, accessories, and furniture, providing a more interactive and immersive shopping experience. Customers can view detailed 3D visualizations of products and see how they would look in real life before making a purchase. The introduction of Hexa demonstrates Amazon's commitment to leveraging AR technology to enhance the online shopping experience and bridge the gap between physical and digital retail.
Expert moment
No more free returns. Will significant percentages of customers stop shopping at a site if it begins adding return fees? What are the most effective ways to reduce returns? Various retailers shared their thoughts regarding this topic in one of Retail Wire's discussions. This is what Mark Ryski mentioned: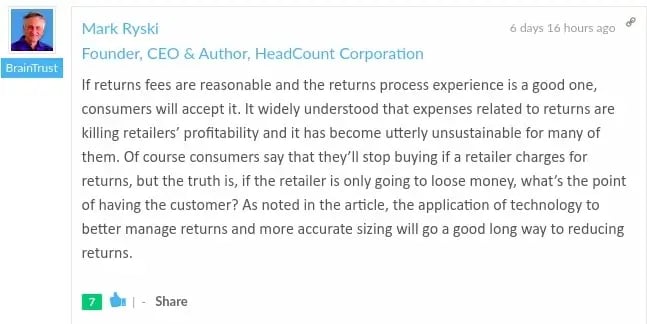 Remote shoppers. Are retailers missing an opportunity to better cater to hybrid-working customers? What would you suggest retailers do to meet the unique needs of remote workers? Retail experts shared their answers to these questions in one of Retail Wire's discussions. Here's what Georganne Bender mentioned: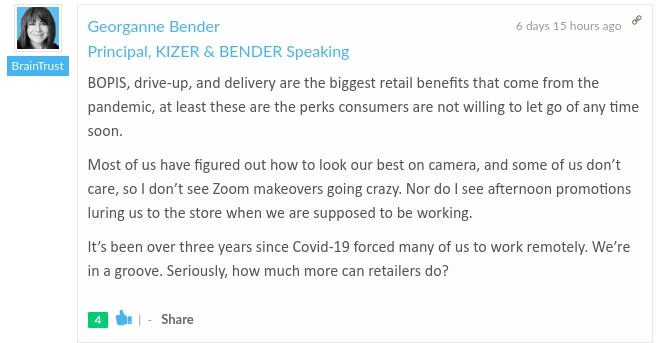 New bills and private brands


SNAP benefits. A new bill proposes controversial changes to SNAP, including stricter work requirements and eligibility criteria for recipients. These changes have sparked debate and raised concerns about their potential effects on low-income individuals and families who rely on SNAP for food assistance. Advocates argue that the changes could lead to increased hunger and hardship for vulnerable populations, while proponents of the bill claim it will encourage self-sufficiency and reduce dependency on government aid.
Store brands. How are retailers enhancing their private brand offerings to attract and engage customers? Retailers are implementing various strategies to elevate their private brands. These strategies include improving product quality, investing in packaging design, expanding organic and sustainable options, introducing premium and specialty lines, incorporating trendy flavors and ingredients, and emphasizing local sourcing.