Campaign corner
Taste tester. In Hershey's commercial, we find out that Lane, a kid, chose to dress up as a Hershey's taste tester for career day at his elementary school. His principal informed Hershey's about Lane's choice, and after a year, Hershey's surprised the school by making Lane their official taste tester. As a part of this surprise, Hershey's also shared their shakes with the teachers and students, creating a heartwarming experience.
Old Livestock. NotCo, a food tech company, has launched a campaign asking people to imagine what livestock would look like if they survived to full life expectancy using raw, hyper-realistic A.I. generated images. In an attempt to change what we eat, NotCo wanted to shock customers and show that our current food system might be broken.
Tech in retail


Video shopping app. Qurate Retail Group, the parent company of popular shopping channels such as QVC and HSN, has recently launched a new mobile app called Sune. The app is designed to provide a seamless shopping experience to its users by allowing them to watch live video streams and make purchases directly from the app. Sune's live video shopping feature allows users to see products in action and interact with hosts and guests in real-time, making the shopping experience more engaging and immersive.
AI for food waste. Minnesota-based grocery chain Lunds & Byerlys has partnered with artificial intelligence and computer vision company, Phood, to reduce food waste in its stores. The system uses cameras and AI technology to track inventory levels and expiration dates, alerting store staff when products need to be restocked or removed from shelves. With this initiative, Lunds & Byerlys aims to cut down on food waste and improve its sustainability efforts.
Retail experts
Virtual fitting rooms. The use of virtual fitting room technology in retail is being debated as some retailers believe that it may discourage sales. The argument is that customers may become discouraged if they are unable to find a garment that fits them perfectly using the technology. In this Retail Wire discussion, retail experts shared their opinions on the topic. Here's what DeAnn Campbell shared: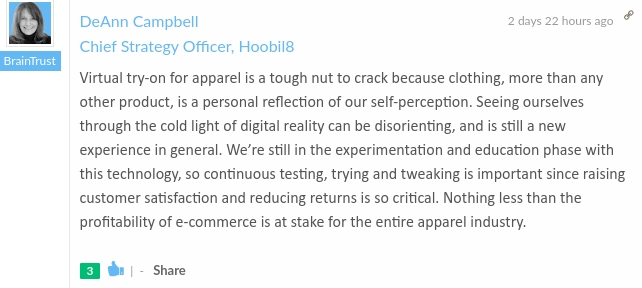 Young generations and wine. The wine industry is seeking ways to capture younger consumers such as Gen Z and Millennials, who tend to prefer beer and spirits. To appeal to this demographic, wine brands are experimenting with unique flavors, lower alcohol content, and more sustainable packaging. In this discussion from Retail Wire, various retail experts share their thoughts on the matter. Here's what David Spear said: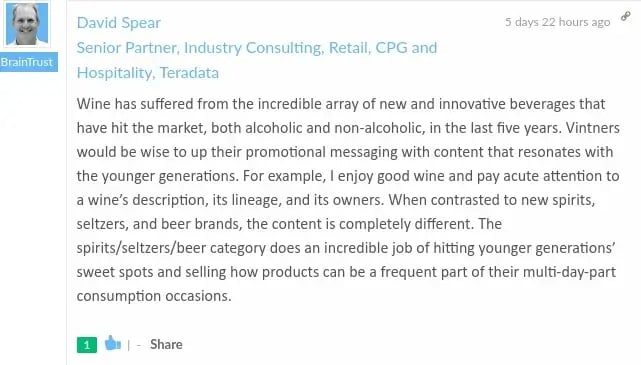 Online shopping and European retail media


Shopping habits. According to a recent report, online grocery shopping habits vary depending on where people work. The study found that individuals who work in urban areas are more likely to use on-demand delivery services or meal kit services, while those who work in suburban areas are more likely to use click-and-collect or home delivery services. The report also noted that consumers who work from home are more likely to use grocery delivery services than those who work outside of the home. These findings provide insights into the varying needs and preferences of different consumer segments when it comes to online grocery shopping.
Retail media. Retail media has gained popularity in Europe, as more retailers are offering brands the opportunity to advertise on their websites and apps. This form of advertising allows brands to target consumers while they are in the purchasing mindset, and it has proven to be an effective way to increase sales and grow market share. By using retail media, brands can leverage first-party data from retailers to better understand their target audience and personalize their advertising efforts. Furthermore, retailers benefit from the additional revenue stream generated by selling advertising space on their platforms.