Brands all over the world are trying to find better ways to engage with their customers. However, most of them make the same mistake: they market their products to a general audience. There is no such thing as a general audience/general market. Your customers are all unique. Yes, they have things in common, and they can even form "tribes" to which you can market. However, you can no longer promote your products to a "general customer".
This is how inclusive marketing started to gain more popularity in the last few years. With the Black Lives Matter and Body Positivity movement, brands started to realize that there are real people, with real -and different- problems that need their attention and products.
However, from talking about being inclusive to actually being an inclusive brand, it's a long road. In this article, we are going to talk more about inclusive marketing and how FMCG brands can promote their products in a way that appeals to different categories of customers.
What is inclusive marketing?
Inclusive marketing is a form of marketing that focuses on making different categories of people feel represented. For inclusive campaigns, brands need to showcase different people, with different backgrounds and stories, instead of relying on the same old stereotypes.
Why isn't inclusive marketing the norm, you ask? Some brands fear that it might lower their sales or that it's going to burst the bubble or the fairytale they've created around their brand. For example, Victoria's Secret hired its first transgender model and also started to include more plus-size models on the runway. Shortly after, Victoria's Secret CMO quit. Why? Because he stated that inclusive marketing can affect the "fantasy" the brand was selling.
Apart from Victoria's Secret, many brands are trying to implement inclusive marketing. Some of them started to do so right after protests took place in the United States due to the murder of George Floyd. At that time, most brands tried to show that they support the Black community. However, people started to take a look at the makeup of their boards of directors and employees and observed that the brands were just supporting the community on paper.
While some brands might think that inclusive marketing can have a negative impact on the image of the brand or even on sales, statistics show exactly the opposite.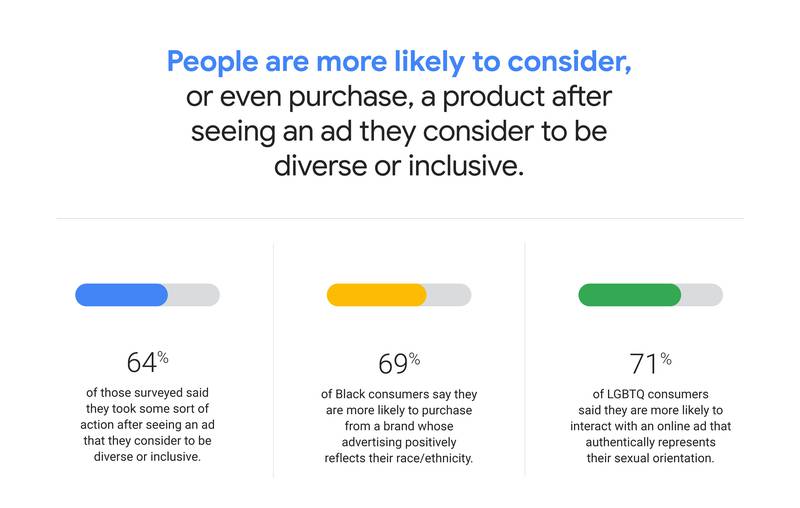 In 2019, a study showed that 64% of consumers took action after seeing an inclusive ad. Why? Because people want to be seen, they want brands to care about them and their problems. By including plus-size models, members of the LGBT+, people of color, and other groups of people who were marginalized, shoppers will start to feel represented.
Brands that succeed at inclusive marketing



1. Savage Fenty X and Fenty Beauty



Some brands noticed the need for diversity and inclusion in TV commercials, in-store marketing campaigns, and other promotional materials and they made it happen. One of those brands is Savage Fenty X. The ultra-inclusive lingerie brand shows us that inclusive marketing is not just a trend with every ad and runway show. Another brand that has the same signature is Fenty Beauty. In the first year, the brand reported $500 million in sales.
2. P&G
Moving on to CPG brands, we have P&G, one of the most appreciated brands from all over the world. When it comes to marketing and storytelling in retail, they definitely take the crown, especially in the FMCG category. From the beginning, people at P&G wanted to show that they care about their customers.
One of their most heart-warming commercials is called Thank you, Mama. Even though this commercial was made almost 10 years ago, you can see that they used inclusive marketing. Militant for inclusion, P&G released an Emmy-winning ad called "The Talk.
3. Coca-Cola



Another CPG brand that was a pioneer of inclusive marketing was Coca-Cola. Back in 1971, Coca-Cola released a commercial called "I'd like to buy the world a Coke". The concept behind the ad was considered groundbreaking because it depicted young people from different countries and backgrounds coming together for their common interest: Sharing a Coke.
Inclusive marketing in-store and online
There are many great brands, like Axe and Gillette, that use inclusive marketing campaigns to better engage with their customers, but we need to move on to actions. How can FMCG brands use inclusive marketing in-store and online? What steps do you need to take to promote your brand inclusively?


1. Learn more about your audience
While CPG brands usually market to most people, you still need to learn more about your audience and understand what they really want. Learn about their struggles and see how your products can help them.
2. Fight stereotypes
Stop using the picture-perfect family with 2 kids and the white picket fence! That is not how real families look like. Stereotypes have a negative impact and they perpetuate the idea that others need to change to be normal or socially acceptable. To fight stereotypes you need to talk about what matters for your brand and use real people in commercials and campaigns.
3. Keep it inclusive on all channels



It's important to offer a unified brand experience and also to maintain the same message on all channels. You should have the same narrative on all of your in-store marketing campaigns, TV commercials, and social media posts.
4. Stand up for what your brand believes in



If there is social injustice, your brand should stand up and support those who are discriminated against. However, make sure that you don't offer support just as a marketing opportunity. Supporting communities and individuals shouldn't be seen as a way to promote your brand.
5. Make it more about the people



Inclusive marketing focuses on making people feel included, seen, and represented. This is why you should focus on making your marketing campaigns more about the people and less about the products. Show how every person is unique and integrate your product as part of the campaign, not necessarily the star.
Inclusive marketing is not just a trend that will pass by. It is the voice of the customers asking to feel seen and represented by brands. Better engage with potential customers and show that you care by using the pieces of advice provided in this article.