Campaign corner
Smart Jar. Hellmann's, a popular mayonnaise brand, has released a new product called "Hellmann's Smart Jar." This jar is designed to fight food waste by using a built-in thermometer to tell users if their fridge is too warm, which can cause food to spoil faster. The Smart Jar also features a label that changes color if the contents inside are starting to spoil.
New direction. Stella Artois, the beer brand, has launched a new marketing campaign and brand refresh that emphasizes the off-premise experience. The campaign includes new packaging designs and digital ads that highlight the beer's versatility for drinking at home or while socializing with friends. The brand is aiming to appeal to consumers who have shifted their drinking habits towards at-home consumption during the pandemic.
Technology elevating retail


Tech Salad bars. Schnucks, a grocery chain in the US, has introduced new self-service salad bars that utilize technology to enhance the shopping experience. The salad bars feature touchless ordering kiosks and a mobile app that allows customers to customize their salads and pay using their smartphones. The introduction of these new salad bars marks a return to self-service offerings for Schnucks, after a hiatus due to the COVID-19 pandemic. The company hopes the new technology-enabled salad bars will be popular with customers and help drive sales.
Automated decision-making. What are the benefits of implementing automated decision-making systems in warehouse operations? By using machine learning and artificial intelligence, warehouses can make more informed decisions about inventory management, order processing, and other key areas. This can lead to improved efficiency, reduced costs, and a better customer experience. There are also some challenges that come with implementing these systems, such as the need for data quality and the potential for bias in the algorithms.
Experts share their knowledge
In-stock levels. What are the reasons for high out-of-stocks in grocery and what solutions do you see? What lessons can be taken from the chronic shortages seen during the pandemic? These were the questions asked in one of Retail Wire's discussions where experts shared their knowledge. Here's what Gary Sankary mentioned: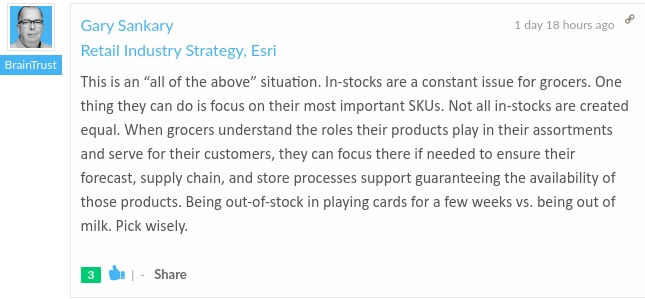 Returns. Should most retailers view returns as a cost of doing business? How confident are you that artificial intelligence and other technologies and processes will notably reduce return rates in the years ahead? Retail experts debated the issue of returns in one of Retail Wire's discussions. Here's what Jeff Sward stated: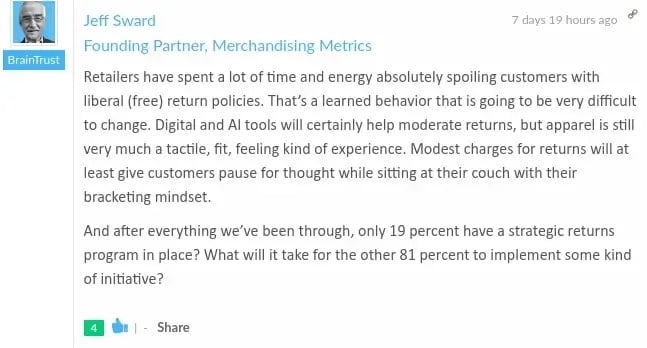 Artificial intelligence and food prices


AI in retail. Generative artificial intelligence (AI) and chatbots like ChatGPT could revolutionize the consumer goods industry. By using these technologies, companies can quickly generate new product ideas, create personalized marketing messages, and improve customer service. However, some potential red flags are associated with the use of AI in the industry, including the risk of bias and the need for human oversight.
Grocery prices. The Food Marketing Institute (FMI) has predicted that food prices in the US will continue to rise in 2023 due to factors such as transportation costs, supply chain disruptions, and inflation. The organization expects grocery prices to increase by 3.5% to 4.5%, with meat and poultry prices expected to rise even more. The FMI advises grocers to focus on building strong supplier relationships and optimizing their supply chains to mitigate the impact of rising prices. The organization also suggests that grocers should consider implementing technology solutions to help them manage their operations more efficiently.