Campaign corner
Better with. Pepsi and agency Alma were recognized by the industry for their outstanding 2021 "Better With Pepsi" campaign. This creative initiative revealed the brand's logo cleverly concealed within crumpled burger wrappers from fast-food chains that didn't offer Pepsi. In the newest version of the campaign, the Pepsi logo ingeniously blends into Captain Morgan and Bacardi branding, urging consumers to reconsider their usual rum and Coke preference.
Magic dog food. The newest commercial for Farmer Dog cites customers that say that the brand's recipes provide remarkable results for their dogs, making them feel like energetic puppies and revitalizing their overall well-being. Transitioning from kibble to The Farmer's Dog may seem like magic, but the secret lies in the use of fresh meat and vegetables rather than any mystical elements.
Time for tech in retail


Carbon capture technology. Walmart has joined forces with Rubi Laboratories, a biotech company based in San Francisco, to implement carbon capture technology in its supply chain. As part of their sustainability efforts, they are also exploring the possibility of creating garments using captured carbon emissions. This partnership aims to make a positive impact on the environment by reducing carbon emissions and promoting eco-friendly manufacturing practices.
AI in retail. The Fresh Market is experiencing positive outcomes through its collaboration with Firework in the realm of artificial intelligence (AI) in grocery retail. They launched a generative AI live shopping solution, claimed to be the first of its kind, which enables customers to interact using in-video chat even after the livestream has concluded. This innovative approach is yielding encouraging results for the grocer's shoppable video partnership.
Sharing the expertise
Dynamic pricing. What do you think of the potential for grocers using dynamic pricing to keep perishables out of landfills? What are the obvious and less obvious challenges of using variable pricing to better influence purchasing to avoid food waste? These are the questions that retail experts answered in one of Retail Wire's discussions. Here's what Neil Saunders mentioned: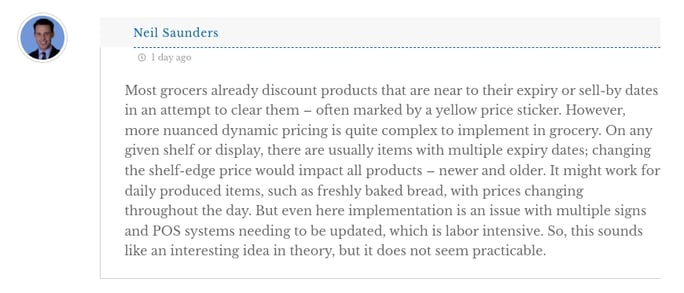 Gen Z influencing. Does it make sense that Gen Z is heavily influencing the shopping tendencies of older generations? Might that be a phenomenon that all younger generations share, or are Gen Zers a more influential generation? Various retail experts shared their opinions regarding this topic from Retail Wire's discussion. This is what Ken Morris stated: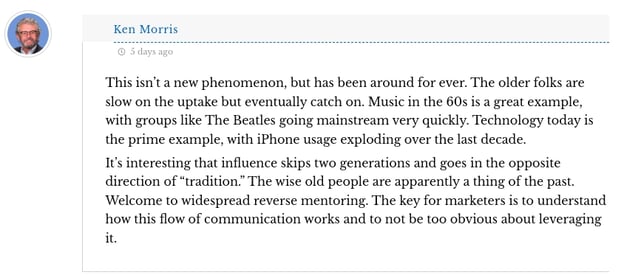 In other news


Financial burdens. A recent study by dunnhumby, a customer data science firm, has uncovered concerning information about the financial struggles of today's consumers. It reveals that 36% of U.S. families have skipped meals due to financial reasons in the past year. The highest rates of skipping meals were observed among the age groups of 18 to 34 years old and 35 to 44 years old, with 38% and 37%, respectively.
Security concerns. A study by e-commerce solutions provider Radial reveals that security concerns are leading to a surge in online cart abandonment. The primary reasons for this are worries about the security of the website being used (48%) and concerns about the protection of personally identifiable information (PII) (45%). Additionally, one in three consumers has experienced fraudulent activity in the past six months, leading to misuse of their credit card or financial information.