Campaign corner
Bitter ending. Many things have bitter endings, but your beer doesn't have to have one. Heineken Silver's commercial is a captivating Viking tale, in which a king searches the forest for his lost daughter. He finds her with his enemy's son and becomes enraged. The king confronts the boy and lists his family's grievances. However, the boy offers a gift of Heineken Silver and proposes marriage to the king's daughter. The king accepts the proposal and celebrates with a banquet. See? No bitter endings!
More than pets. Pets are more than just pets. They are your kids, maybe even your favorite child, as this Chewy commercial indicates. During a family dinner, everyone, including the dog named Bailey, shares their daily activities. Bailey recounts her walk in the forest, where she proudly states that she didn't get any fleas, which she attributes to the medication her parents gave her. Take a look and see who is the child that makes the parents more proud.
Retail technology


Health and tech. Instacart has announced plans to expand its "Food as Medicine" program by partnering with health care providers. The program allows healthcare providers to prescribe groceries to customers with specific dietary needs, and Instacart delivers the groceries directly to the customers' homes. The company aims to provide access to healthy foods for underserved communities and individuals with chronic health conditions.
Automated retail. A new report from Zebra Technologies shows that retailers are increasingly using robots and automation to improve efficiency and customer experience. The report found that 61% of retailers are planning to increase the use of automation in their stores, and 57% plan to increase the use of robotics. Retailers are using robots for tasks such as cleaning, inventory management, and fulfilling online orders. Additionally, automation is being used to reduce labor costs and increase efficiency in tasks like checkout and restocking.
What experts shared
Free shipping. Retail experts answered the following questions in one of Retail Wire's discussions. Do you see shipping charges returning as a regular part of all online retail transactions? Is there still a risk of alienating customers by charging too much for S&H, or losing out on conversions by making free shipping thresholds too high? Here's what DeAnn Campbell stated: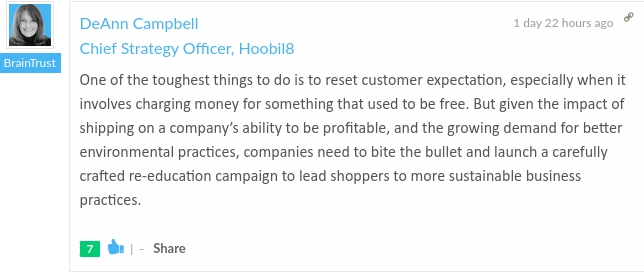 Trading down. Why is trading down activity appearing to increase at the same time that prices are moderating from the past year's highs? How should retailers selling products in discretionary categories navigate a period where a greater percentage of consumer purchasing is concentrated in non-discretionary goods? In one of Retail's Wire's discussions about trading down, retail experts answered these questions. Here's what Jeff Sward mentioned: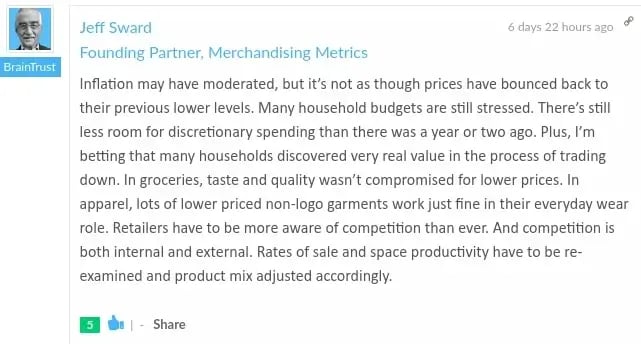 Retail crime and flexible payments


Organized retail crime. Organized retail crime is becoming a growing problem for grocery stores. Retailers are implementing various strategies to combat the issue, including increasing security measures, training employees to identify potential theft, and collaborating with law enforcement. Additionally, some retailers are using technology, such as AI-powered cameras and electronic article surveillance tags, to deter theft and identify criminals.
BNPL in grocery. Buy-now-pay-later (BNPL) options are becoming increasingly popular in the grocery industry. The payment model, which allows customers to pay for purchases in installments, is being offered by major grocery chains, including Walmart, Kroger, and Albertsons. Some experts caution that BNPL could lead to increased debt for consumers who may not fully understand the terms of the agreement.