Campaign corner
Superbowl excitement. Pepsi is bringing the excitement of the Super Bowl halftime show to the UEFA Champions League kick-off show. Pepsi has a long history of sponsoring the Super Bowl halftime show, and now they are leveraging their partnership with the Champions League to create a similarly spectacular experience. The kick-off show will feature a star-studded lineup of performers, including Dua Lipa, who performed at the Super Bowl halftime show in 2021.
Easy like summer. During the summer season, people often seek enjoyment and relaxation. However, engaging in summer activities can sometimes lead to various challenges. Whether it's tumbling off a paddle board, struggling to remain in a hammock, or accidentally dashing through a screen door, numerous mishaps can occur. In their commercial, Bud Light aims to assure its customers that a refreshing Bud Light can help maintain their contentment and tranquility, even when confronted with common summer difficulties.
Time for retail technology


Party prep hub. Shipt, a grocery delivery service owned by Target released a new shopping hub. The shopping hub, called "Party Prep," is designed to cater to customers' needs for planning and organizing parties or special occasions. It offers a curated selection of products related to party preparation, including decorations, snacks, beverages, and more. Shipt aims to provide a convenient and efficient shopping experience for customers looking to host gatherings by offering them a one-stop destination for all their party-related needs. The Party Prep shopping hub is part of Shipt's efforts to expand its offerings and capture a larger share of the online grocery market.
Self-service advertising platform. Kroger, a major supermarket chain, is developing its own self-service advertising platform. This platform will allow brands to place targeted advertisements within Kroger's digital properties, such as websites and mobile apps. By building this proprietary ad platform, Kroger aims to provide more personalized and relevant advertising experiences for its customers while also generating additional revenue. The platform will leverage Kroger's extensive customer data to deliver targeted ads based on shopping habits and preferences.
Expert opinion
Unattended retail. Is unattended retail still poised to be popular with American consumers? Which unattended retail applications do you expect to gain favor? These are the questions that retail experts answered in one of Retail Wire's discussions. Here's what Mark Ryski stated: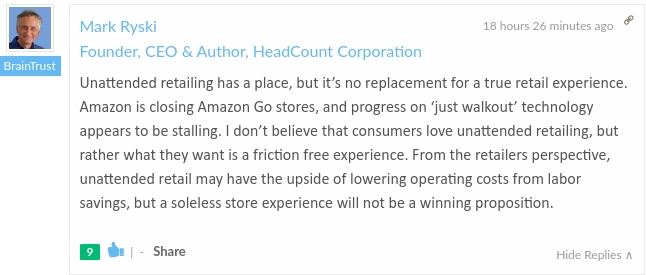 Personalization in retail. Do you see more benefits than drawbacks to retailers collaborating on standardized metrics or will agreed-upon measurement protocols create competitive disadvantages? What complexities do you see in developing universal standards for retail media? Various retail experts answered these questions in one of Retail Wire's discussions. This is what Ricardo Belmar mentioned: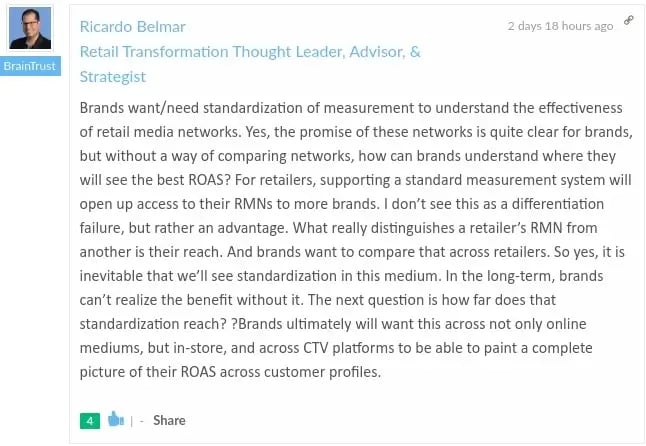 Celebration costs and the Grocery industry


4th of July celebration. The prices of meat for Fourth of July cookouts are higher compared to previous years, according to a report by Wells Fargo. The report reveals that factors such as increased demand, supply chain challenges, and rising costs of inputs have contributed to the price surge. Beef prices, in particular, have seen a significant increase. This price hike may impact consumers' purchasing decisions and potentially lead them to opt for alternative protein sources or smaller portions. The report also highlights that despite the price increase, retailers are still expecting strong sales for the holiday, as consumers are eager to celebrate and gather for cookouts.
The grocery industry. The findings of a study conducted by Dunnhumby on the future of the grocery industry show that inflation will continue to impact the grocery industry. The analysis of over 70,000 survey responses revealed that concerns about money will continue to shape the industry for years to come. Price is a significant consideration for most grocery shoppers, regardless of their income level. However, shoppers with higher incomes also prioritize factors like health and sustainability.