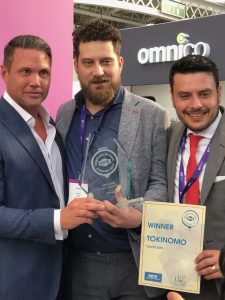 In 2018, Tokinomo won the big innovation award at RBTE LONDON, the leading event for retail technology.
One year later, in 2019, Tokinomo came back to showcase its latest feature: the dialogue.
Now let's all take a moment to celebrate last year's success, when Tokinomo was elected the most innovative retail solution among 200 other amazing participants, and let's give a round of virtual applause to our founders, who brought to life this amazing device that's shaping the future of retail marketing.
Thank you, thank you very much, back to business now.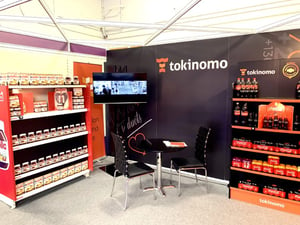 So what happened at Retail Expo in London this year? First of all, let's set things straight: RBTE and Retail Expo are actually the same event. They just rebranded it in 2019, so we're gonna call it Retail Expo from now on.
Tokinomo participated this year among other 800 exhibitors and cutting edge suppliers offering the best solutions in retail tech, design and digital signage.
Honestly, only being there was a privilege. We got the chance to meet so many fellow innovators and retail experts from all over the world and to display Tokinomo's new hot feature: the dialogue.
What is Tokinomo's new feature?
You know how Tokinomo uses sound, motion and light to bring products to life at the shelf?
As if that wasn't cool enough, now you can synchronise two devices to create a real-time dialogue between products. Take a look below to see how it works:
That puts a whole new spin on cross-promotion, right?
You get the idea, now all you need is some creativity. Imagine taking cross-promotion to this level and anticipate the impact it would have on your customers.
No, really, let's use our imagination for a second. What kind of products could benefit from this new feature?
Hmmm, what about:
Beer and chips

Cereals and milk

Shampoo and conditioner

Toilet paper and bathroom air freshener

Toothbrush and toothpaste

Detergent and laundry softener

Day cream and night cream

*Insert other ideas here*
We could go on forever. There are no limits to what you can do. Use it right and sales will spike higher than ever before. If you're curious about the results Tokinomo has produced for our customers so far, contact us and we'll send you a presentation.
Thanks to Retail Expo for having us!
It was a pleasure to participate again this year at Retail Expo. In case you're curious about other exhibitors or speakers, feel free to check out their official website. There is a lot of cool stuff there
Don't forget to subscribe to Tokinomo's Youtube channel for more creative demos and insights to inspire your future super cool in-store marketing campaigns.