It was a pleasure to be a part of the Trade Marketing Congress event "Magnetism de brand" organized by Piata magazine, where Tokinomo's CEO, Ionut Vlad, was invited to give a speech on Retail Trends and Innovations.
Part of our team attended the event, connecting with the retail community from Romania and enjoying meeting other forward-thinking retail professionals.
Piata Magazine
Piata is a Romanian magazine dedicated to the retail industry and specifically to FMCG brands and retailers. Piata, the consumer goods magazine is available both online and in print for all retail professionals.
The publication for retailers, distributors, and suppliers of consumer goods organizes various industry events where participants can learn more about recent trends and industry insights from renowned specialists and speakers.
Trade Marketing Congress 2023 by Piata
Trade Marketing Congress reached its 12th edition this year. On March 7th in Bucharest, hundreds of retail professionals gathered to discuss this edition's topic: Brand magnetism.
Due to the rising inflation, customers tend to "jump ship" to the most attractive and budget-friendly alternatives.
Participants of the 2023 Trade Marketing Congress discussed about valuable strategies and insights on how to induce brand magnetism and maintain customer loyalty in a highly competitive market. Industry professionals shared their experiences on customer loyalty initiatives, highlighting the importance of investing resources in intelligence, experience, professionalism, and financial means.
They discovered that success in the loyalty competition requires more than just investments, but also a unique magnetism that sets a brand apart from competitors. Participants learned about the importance of differentiating their brand by creating a cool and compelling offer that inspires customer migration towards their products.
Through in-depth discussions, they gained valuable knowledge on what to do and avoid when building customer loyalty. They discovered that loyalty is earned through a deep understanding of customer's needs and preferences, and by delivering quality products and services that consistently meet or exceed their expectations.
At the event, various retail professionals spoke on stage, including:
Dana Dobrescu, Manager Corporate & Government Affairs Romania, Mondelēz International

Bogdan Lupu, Director of Loyalty and Mobile, Carrefour Romania

Alexandra Rusu, Marketing Director România & Bulgaria, Tchibo Brands.
Ionut Vlad's speech on Retail trends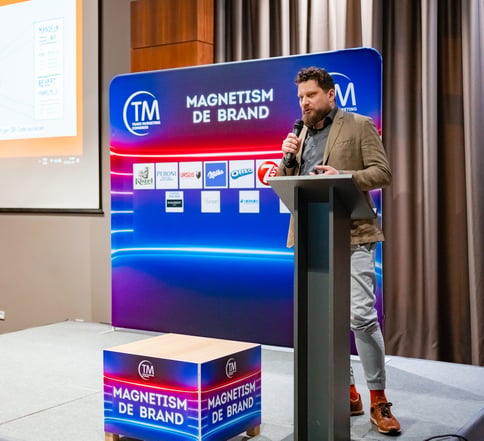 Ionut Vlad, Tokinomo's CEO, spoke about the most important trends retailers and brands must follow in 2023. Sustainability, smart checkout, and loyalty programs are just some of the things that matter to consumers nowadays.
For brands and retailers that want to stay ahead of the competition, Ionut also talked about technologies and retail innovations that can be implemented, especially in stores.
"As the retail industry becomes increasingly competitive, it's more important than ever for brands to differentiate themselves and stand out on the shelves. Retail technologies, such as Tokinomo's solutions, provide brands with a powerful tool to capture consumer attention, engage them with personalized experiences, and ultimately drive sales. By embracing retail technologies, brands can elevate their in-store presence, build customer loyalty, and achieve a competitive edge in today's crowded market."

Ionut Vlad, CEO of Tokinomo
The participation of Tokinomo at the Trade Marketing Congress organized by Piata Magazine was a testament to the company's commitment to helping brands succeed in the competitive retail industry.
Tokinomo's CEO, Ionut Vlad, emphasized the importance of using retail technologies to differentiate brands, engage shoppers, and increase sales. By attending events like the Trade Marketing Congress, industry professionals can stay up-to-date on the latest trends and innovations, gain valuable insights from experts, and network with other like-minded individuals.
As the retail landscape continues to evolve, it's clear that companies like Tokinomo will play a vital role in helping brands achieve their business goals and stand out in the crowded marketplace.