When one of the leading FMCG brands chooses you, the stakes are high. Coca-Cola is one of the most innovative and creative brands out there, so we're happy to have partnered up several times to contribute to their success.
Challenge: increasing sales for the market leader
Coca-Cola is Coca-Cola. Everyone knows about it, their brand awareness is huge and when it comes to loyal customers, well...we all know a few. What does Coca-Cola want? More shopper engagement, new technologies to enable their communication at the point-of-sale (where options are limited and mostly outdated), and new ways to express their amazing creativity in brick-and-mortar environments.
Audio brand communication on the shelf
For the first time, using Tokinomo robots, Coca-Cola was able to express the brand's personality at the point-of-sale using sound, motion and light. What to say? Something memorable, of course. And out-of-the-box. While other brands usually communicate the changes they've made to the products, Coca-Cola used humor to communicate that when you're this good, you don't need to change.
Hi there! Try the new Coke. Same good looking can, same great refreshing taste, but a whole new...Oh, when you're this good, you don't need to change.
And since the product advertised was a Coca-Cola CAN, the creative team thought they CAN promote the CAN like this:
Wondering if I CAN quench your thirst? Well of course I CAN! I'm a CAN. So buy a CAN. Yes you CAN!
Couldn't expect anything less from Coca-Cola but inspired messaging, which made us very happy because, as we mention all the time, the combination between the brand's creative ideas and our robot's unique technology has an impact on the overall campaign performance. Including the sales!
Sales impact. How it went?
Coca-Cola advertised 3 different products with Tokinomo:
Coca-Cola Classic (can)
Coca-Cola Energy
Coca-Cola Strawberry
Coca-Cola Classic: +279% sales lift
Challenge completed. Coca-Cola Classic managed to increase sales by more than 200% during the Tokinomo activation, with no price reductions or other incentives. Just by engaging with shoppers and reminding them in a creative way which is their favorite soft drink of all times.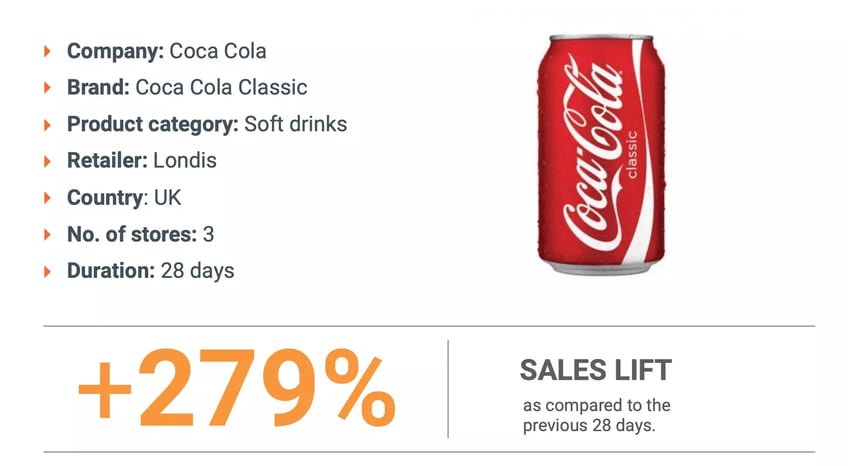 Coca-Cola Energy: +211% sales lift
Not far behind Coca-Cola Classic was Coke Energy. Tokinomo managed to energize their sales significantly inside the 10 stores it was implemented in.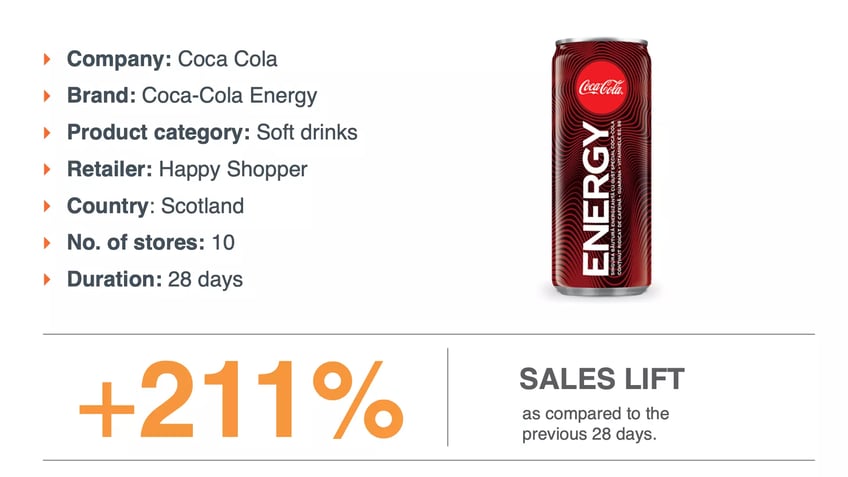 And we saved the best for last.
Diet Coke Strawberry: +437% sales lift
The ultimate sales results were recorded for Diet Coke Strawberry which had an over 400% increase in sales.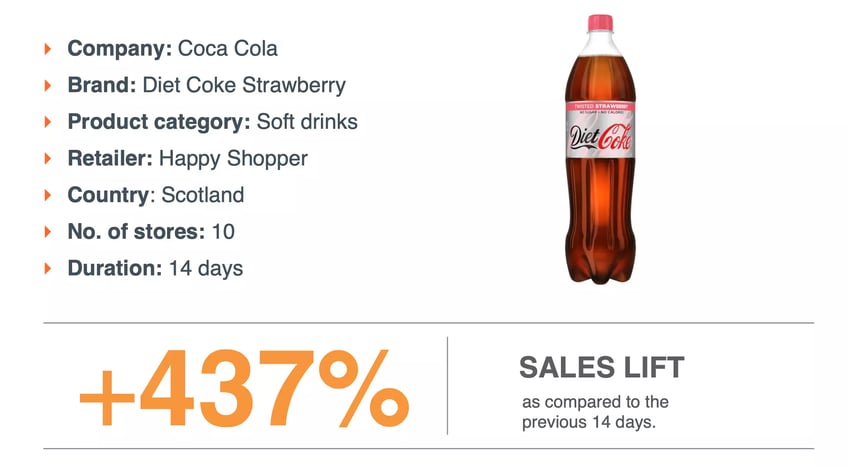 Innovation drives results
FMCG brands invest a lot in their advertising campaigns on multiple channels. In-store advertising is still very much the same as it was 10 years ago. Our shelf activation solution brings forward a whole new approach to in-store advertising, one that's interactive, engaging, and memorable, and we're happy to deliver great results to outstanding clients such as Coca-Cola.