Want to attract the attention of shoppers and increase sales for your private label product in-store? Here's what Carrefour Tunisia did to promote two of its products and launch a new one at the same time, in more than one store.
In this case study, you will discover how a well-known retailer managed to increase sales by up to 436% for one of its products. Keep reading to find out what worked for Carrefour Tunisia.
Promoting private label products
Before we dig in, we should discuss a bit more about private-label products. Considering all of the events that affected the retail industry in the last 3 years, it is safe to assume that retailers and brands are constantly looking for ways to attract new customers and retain loyal ones.
More and more retailers are focusing on private labels. The store brands, or private labels, are owned by the retailer and are usually more accessible for shoppers. Since inflation continues to rise, customers are turning their attention to store brands to save up some money while still purchasing the products they need. This is why, private label sales are surging and retailers need to find new ways to keep these products relevant for their customers.
Launching a new product innovative way
When it comes to launching a new private label product, a retailer needs to consider the competitive market it's entering and find a way to generate trial among shoppers. During the Pandemic years, the number of products introduced by private label brands has outpaced those from national CPG brands, which shows the competition is fierce.
Taking advantage of retail tech
Taking into account the competitive market, the way shopper behavior has changed, and the issues that are affecting the retail industry, Carrefour Tunisia decided to try out an innovative in-store marketing solution to promote two of its private label brand products and to launch a new one - Tokinomo Shelfobot.
Carrefour's objectives
For this campaign, Carrefour wanted to:
Promote 2 of its well-known products
Attract the attention of shoppers
Engage shoppers at the point of sale
Generate trial for its new product
Trial campaign in-stores
Carrefour Tunisia implemented a 7-days pilot campaign to test 3 different product categories (Canned Harrisa, Fondu Cheese, and newly launched Crispbread/Rusks)
The week-long campaign started on February 2nd, 2023 and ended on February 10th, 2023. This in-store promotional campaign was implemented in 4 Carrefour locations in Tunisia:
Carrefour Hyper El Marsa
Carrefour Market El Ghazela
Carrefour Market Manar City
Carrefour Market Boumhal
This campaign was implemented with the help of Tokinomo's partner in Tunisia, Testatek.
Increase shopper engagement
As you might expect, shoppers were delighted to see that various products from the store were talking to them and convincing them to give them a try. Carrefour managed to captivate the attention of shoppers and this can be observed in the record sales.
436% sales increase for Harrisa
The top attraction was the canned Harrisa. In all 4 stores, the canned Harrisa was a top seller. Overall, Carrefour Tunisia managed to increase sales by 436% for this product, in just one week of campaign.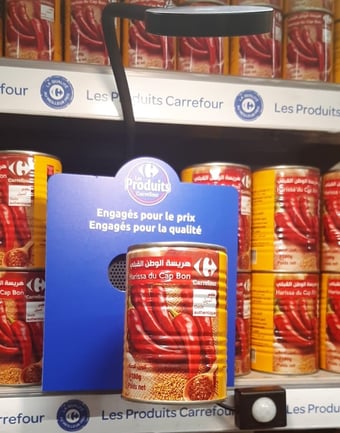 136% increase in sales for Fondue Cheese
Everybody loves Fondu cheese, right? Well, during this campaign, shoppers loved it even more. Carrefour Tunisia saw an overall (combined sales data from 4 stores) increase in sales of over 136% for the Fondu Cheese.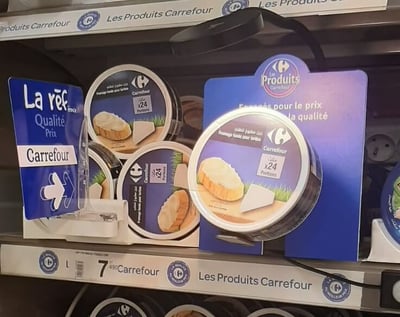 Generated trial among shoppers for their new product
While for the newly launched product it is impossible to make a sales comparison, this campaign managed to generate trial among shoppers. During the promotion, shoppers tried out the new product.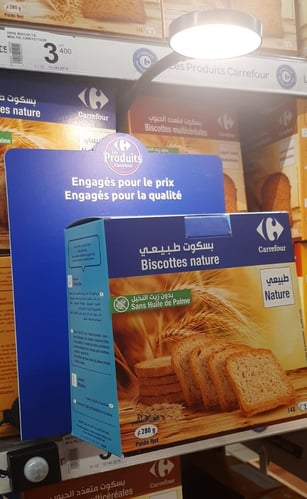 Carrefour Tunisia accomplished all of its objectives
Increase sales for both of the promoted products without price cuts
Attract the attention of shoppers
Engage shoppers at the point of sale
Generate trial for its new product
Want to launch a new product or promote existing ones?
Have a new product you want to launch in-store? Tokinomo Shelfobot is a great in-store marketing solution that can help you implement creative campaigns which will delight your shoppers.
Engage customers at the point of purchase!
Learn how Tokinomo can help you:
Raise brand awareness
Increase product visibility
Increase shopper engagement
Lift sales
Acquire more customers
Benefit from word-of-mouth marketing