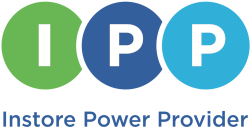 Instore Power Provider is a top professional retail marketing services agency with strong field capabilities. Constantly innovating and permanently gathering knowledge and expertise, IPP delivers reliable and efficient solutions for growing the client's sales performances. A large field force team, covering both modern and traditional trade, provides an extended range of field marketing services and solutions.
Providing services such as merchandising, commercial training, personnel leasing, commercial representation and instore monitoring, they can offer their partners, through permanent innovation and experience, sustainable solutions for increased performance and efficiency at the point of sale, transforming the collaboration into a long term partnership.
Brand`s performance, in terms of availability, visibility, share of shelf in the category, accuracy in implementing standards and in-store communication can be checked using the reporting service StoreBI IPP. Through all the activities that they do daily, they provide to their partners, and also serviced brands, more power at the point of sale.
Country:
Romania
Website:
https://www.ipp.com.ro
Contact:
office@in.store.ro
Phone:
+40 314 378 2188
Address:
Capitan Mircea Petre nr. 16-18, Sector 1, Bucuresti